When I set off on my first Expedition Cruise in the Kimberley several years ago I had absolutely no idea what to expect.
After 100 plus cruises on conventional ships around the world, the whole concept of undertaking an expedition on board a small ship was totally foreign to me.
I had sailed on smaller ships before, but never on such an exciting and extensive itinerary as this.
Now, it is a part of human nature to be a little hesitant in suddenly surrounding yourself with a group of strangers. I was worried about having to spend the next 10 days with people I didn't know.
When I turned up at the wharf in Darwin to board the Coral Discoverer (then known as Oceanic Discoverer), I was greeted by half a dozen smiling faces, all eager to welcome me aboard and assist me with my baggage and camera gear. Little did I know these people would become firm friends as the cruise progressed and would turn my experience into the journey of a lifetime.
Within a couple of days, I realised that Expedition Cruising is as much about making friends and sharing experiences as it is about exploring new places. Each day we would go out on the Explorer expedition boat and cruise through amazing gorges and go ashore on the wildest beaches anywhere in the world.
As a group, we found these places together and revelled in their wildness and their majesty. At every footstep in new places, we were guided by experts in wildlife and the ancient culture of this region. This gave our explorations a layer of enjoyment and self fulfilment that is impossible to achieve on a conventional cruise.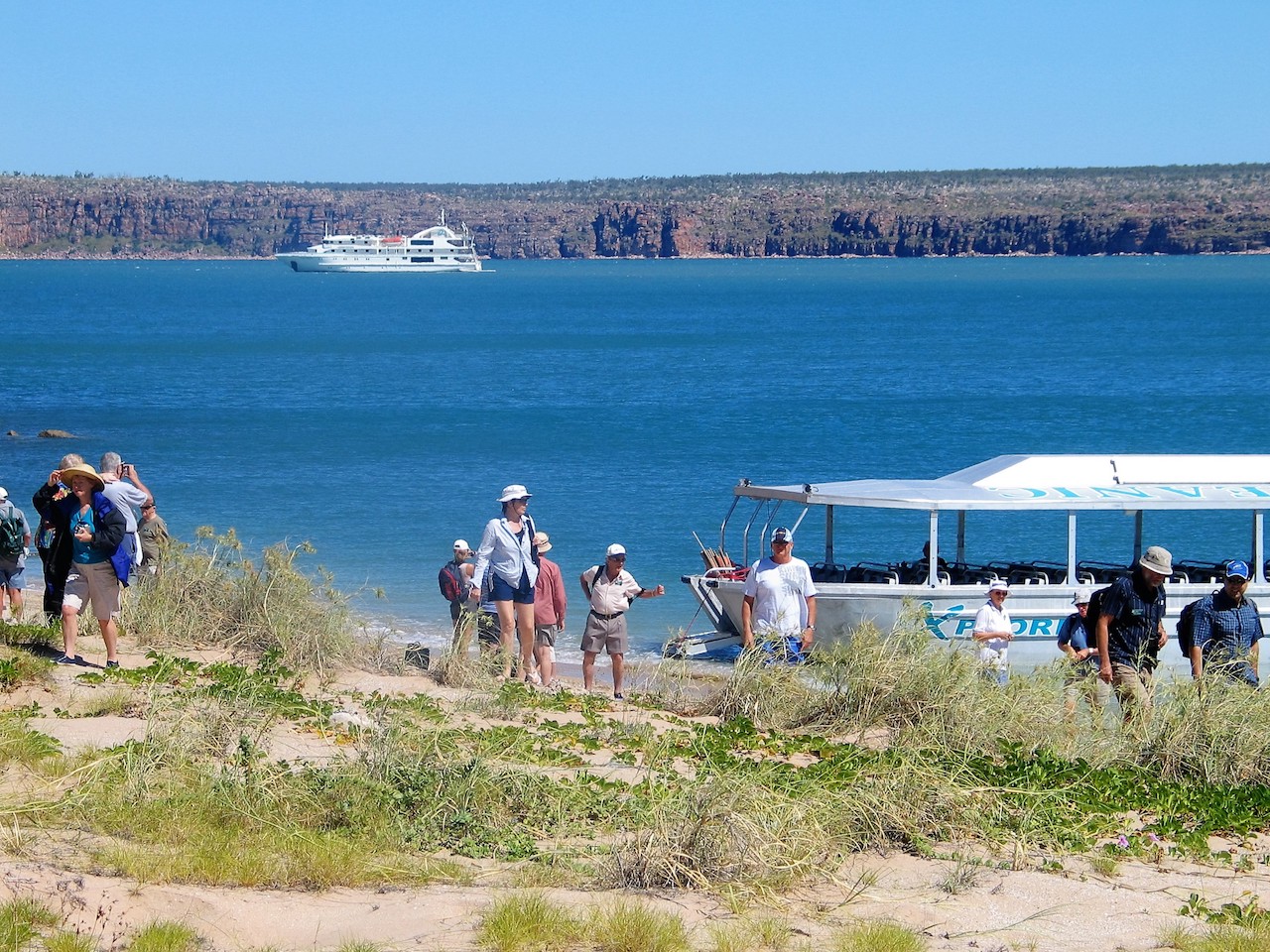 Then as the sun settled in the west, we would gather in the upstairs lounge for a cleansing ale or a glass of wine while our expedition leaders gave a short talk on the day's experiences. This was followed by a sumptuous a la carte dinner in luxury surroundings.
The ship was abuzz with my fellow passengers excitedly discussing the day's adventures. After dinner we sat on the back deck in the warm, clean Kimberley air watching the stars hung like chandeliers just above our heads.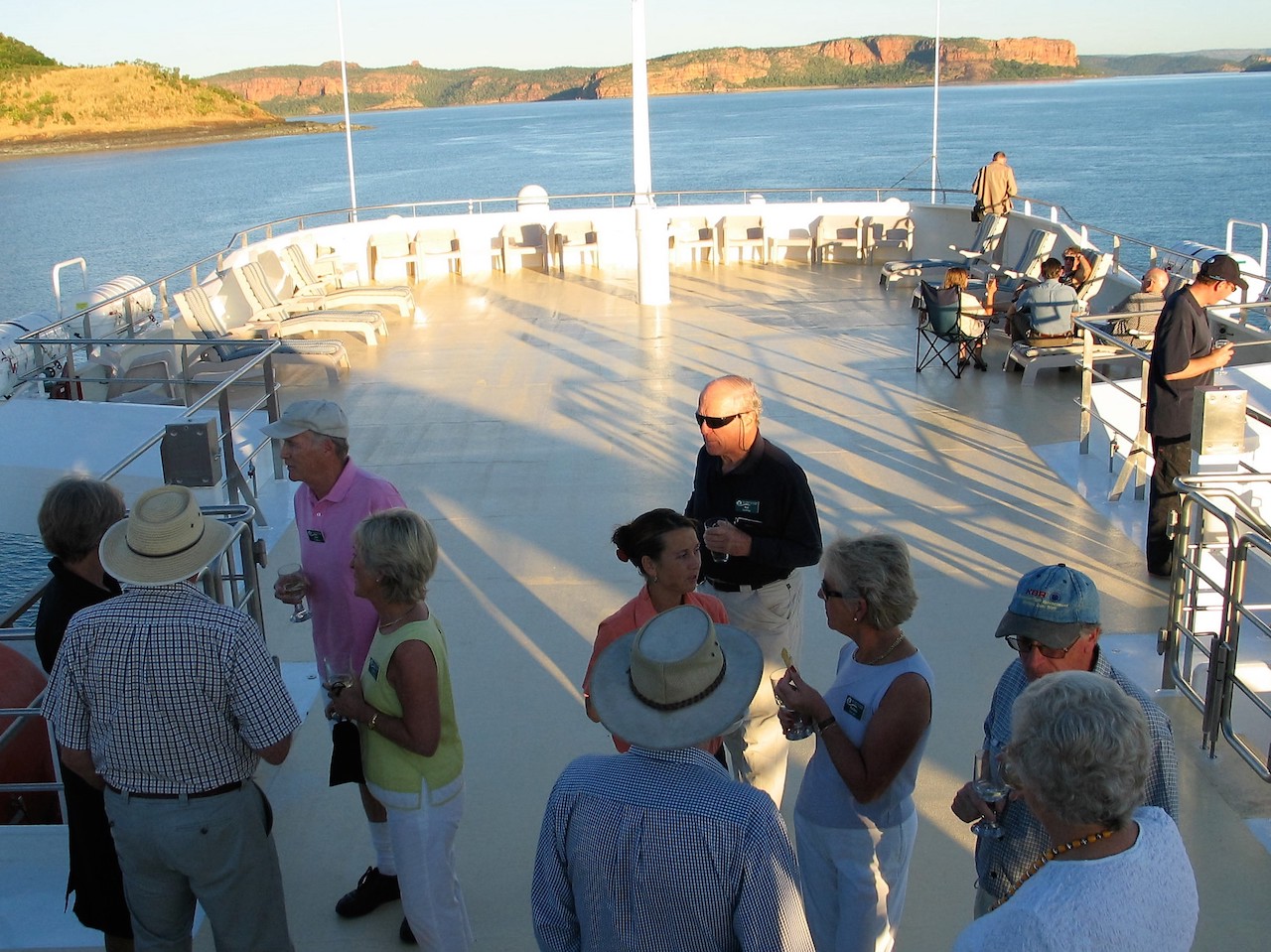 We talked for hours about the amazing places we had seen, places most Australians never get to see. We talked about many things and along the way we all confessed we had been a little bit concerned about setting off for 10 days with total strangers.
This is the true joy of Expedition Cruising. It is all about the sharing of wild places with friends and crew members who genuinely love what they do.
The highlight of the cruise came when we anchored under the impressive cliffs of a legendary Kimberley landform known as Raft Point. The crew set up a bar and a smorgasbord on the top deck and we all gathered on high.
The air was still and embracing. Coral Discoverer was shrouded in a golden glow as the sun began to disappear behind us. All eyes were fixed on Raft Point as it suddenly blazed in a deep, rich red colour. We stood in silent wonder at what we were witnessing.
Yes, Expedition Cruising holds many joys for the experienced traveller, but its true joy is the shared experience of exploring amazing places with strangers who have become close friends.
Click here for more information about exploring the Kimberley Coast aboard Coral Discoverer.
Contact us for bookings and information.
Dallas Sherringham is a media professional, world traveller and regular contributor to our blog. Some imagery has been supplied by Michael Osborne.