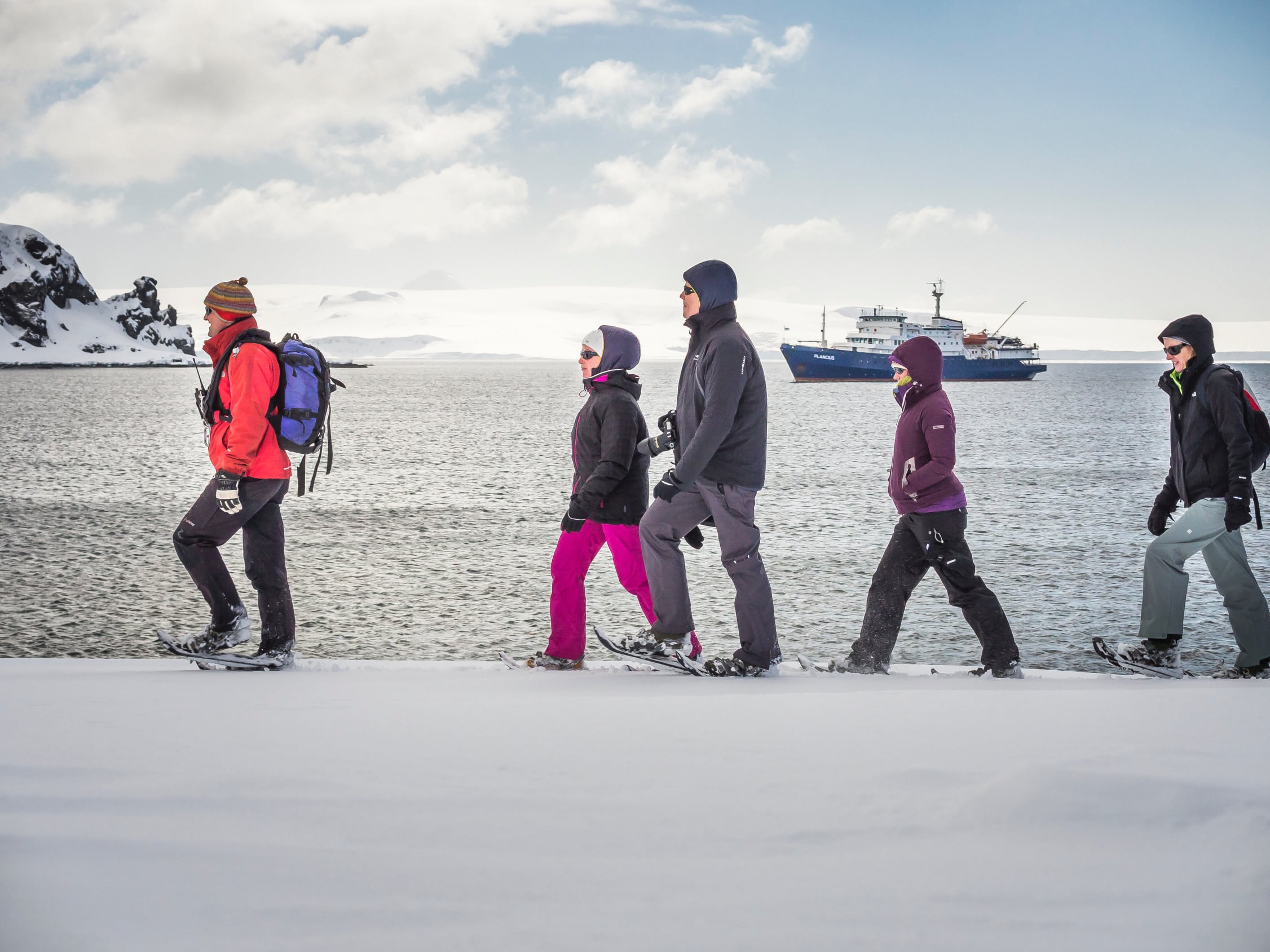 These days, as expedition cruises become more and more mainstream, you could say that the new breed of expedition ship is more akin to a mini cruise-liner, where the ship itself is the destination. But that doesn't mean true adventurers need to miss out, as there's some great options available for the most intrepid of travellers who wish to experience all that Antarctica has to offer.
If you're more interested in experiencing what's off the ship, rather than on, Basecamp expeditions are designed for more active adventurers seeking a range of included activities. Departing from and returning to Ushuaia (southern Argentina), 13-night Basecamp cruises are offered aboard your choice of four ships operated by our partners Oceanwide Expeditions. You can choose to explore aboard the new Hondius and Janssonius, or the classic polar-ships Ortelius and Plancius.
Each expedition uses the mothership as a main hub, and from there, travellers are able to choose their own adventure each day from a variety of included activities, all of which are included in the cruise fare. After anchoring in the heart of the action, Basecamp travellers will have easy access ashore aboard the Zodiacs and it's up to them as to how they want to spend their days. On each activity you will be ably led by certified experts in that activity, so if you're a novice they will be on hand to provide training and advice.
Keep reading to find out more about included Basecamp activities, and get a glimpse of what's on offer by checking out the video below.
Zodiac cruises and ship-to-shore transfers
A staple of expedition cruises, Zodiacs are rubber tender boats that are used for two major purposes on Basecamp expeditions. The first use is for exploration of the shoreline. These durable and agile tenders are able to zip along the edge of the ice, giving you the chance to take in icebergs and land-based wildlife. Zodiacs are also used to transfer travellers from their Basecamp mothership to the shore. All the activities you are able to enjoy ashore are made possible by these boats!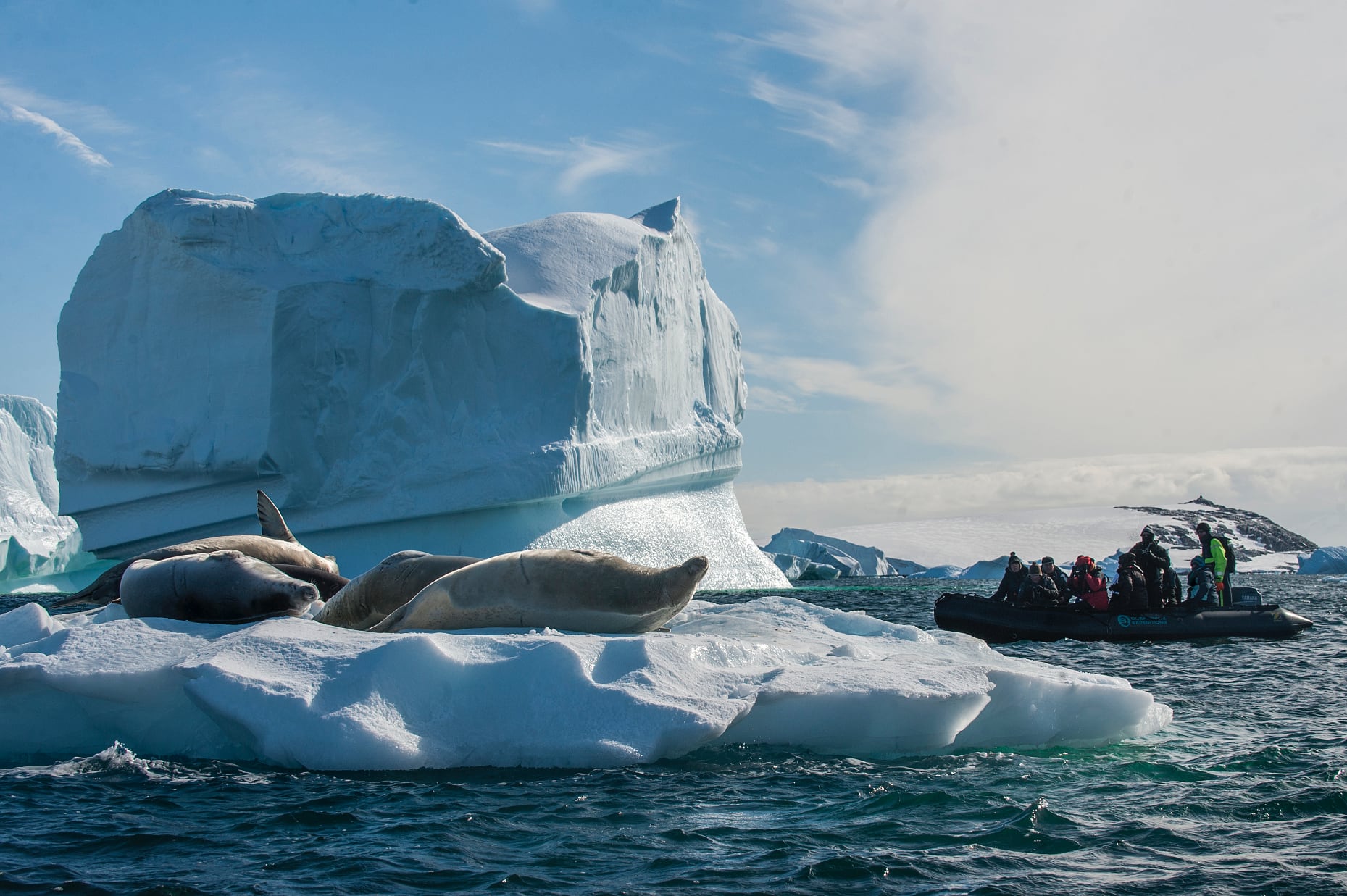 Photography Workshops
Whether you're a keen Instagrammer wanting to make your friends jealous, or a seasoned photographer, Antarctica Basecamp cruises offer a panorama of beautiful landscapes and wildlife to capture. Onboard your ship, you will be joined by photo experts for photography workshops, teaching you how you can maximise your skills. Then, once ashore you will have ample time to put what you have learned into practice! Each photography excursion is limited to just 20 travellers, allowing the photo guides to provide personalised attention and advice when teaching camera mechanics and shot composition.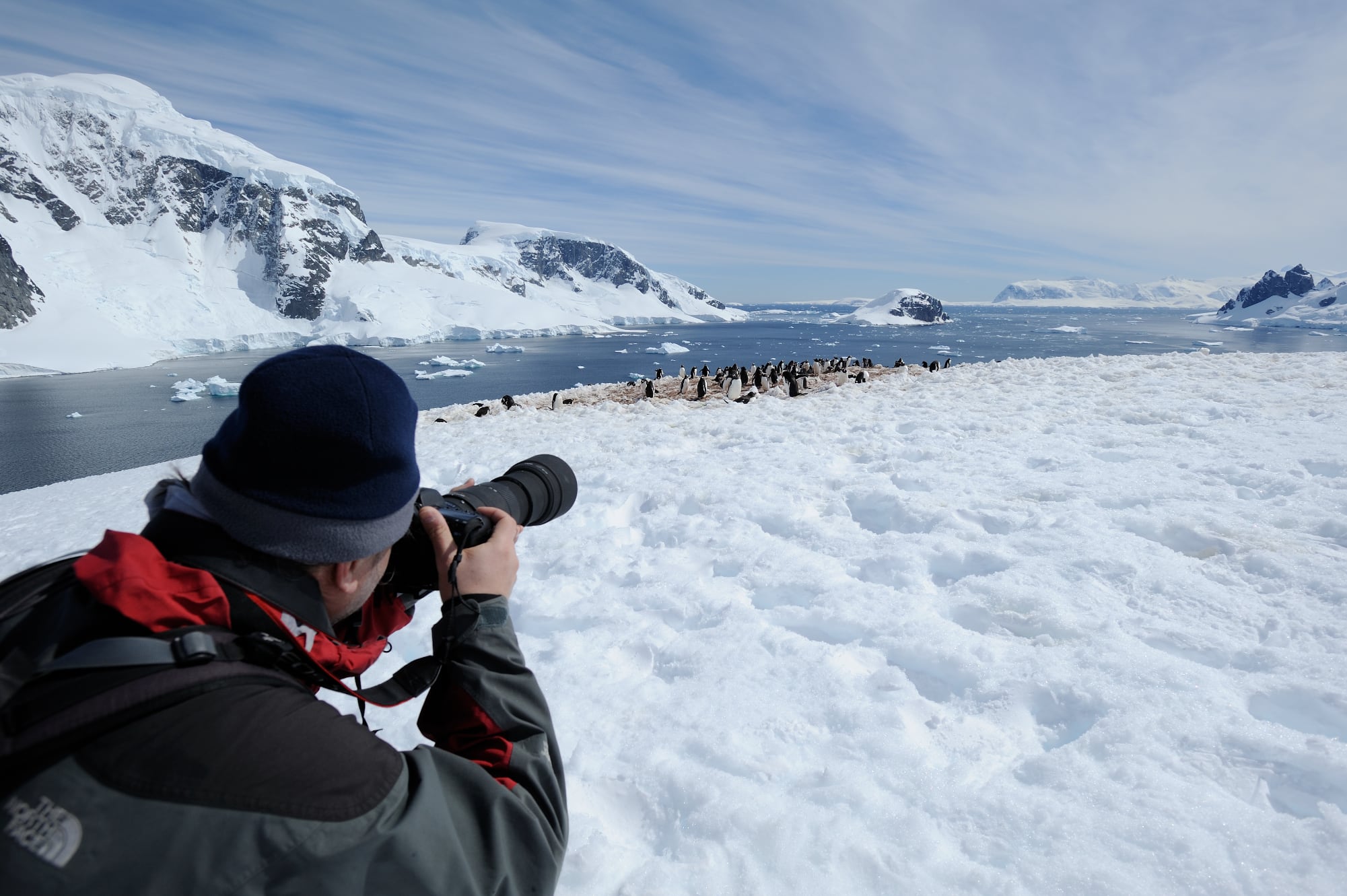 Snowshoeing and hiking
If you're looking to be a little more physically active on your Antarctic cruise, walks of different levels and required endurance are on offer. In Antarctica, each day two landings of between two and three hours in duration are generally on offer during Basecamp. If you're joining an early-season expedition (November / December departures), there may still be some deep snow to traverse, making it necessary to break out the snowshoes! Snowshoes are very easy to use, they fit your pre-issued rubber boots, and they're a fun alternative to slogging through shin-deep snow.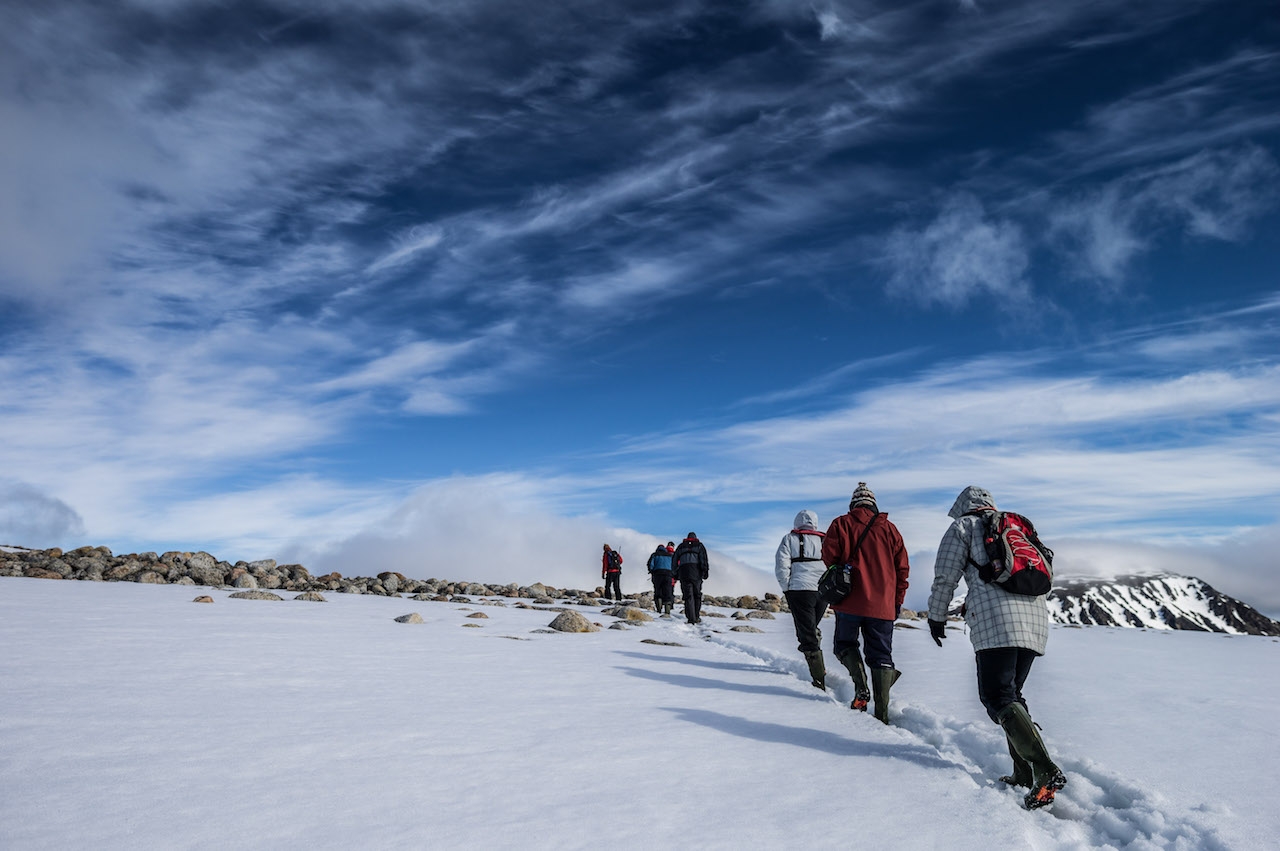 Kayaking
On Basecamp expeditions, typically two kayak excursions are offered a day (while anchored in Antarctica), each limited to 14 travellers at a time, ensuring that the safety spotters can keep an eye on everyone. You'll be provided with a double-seated kayak, a neoprene wetsuit, and a life-jacket. You will need to provide the muscle yourself!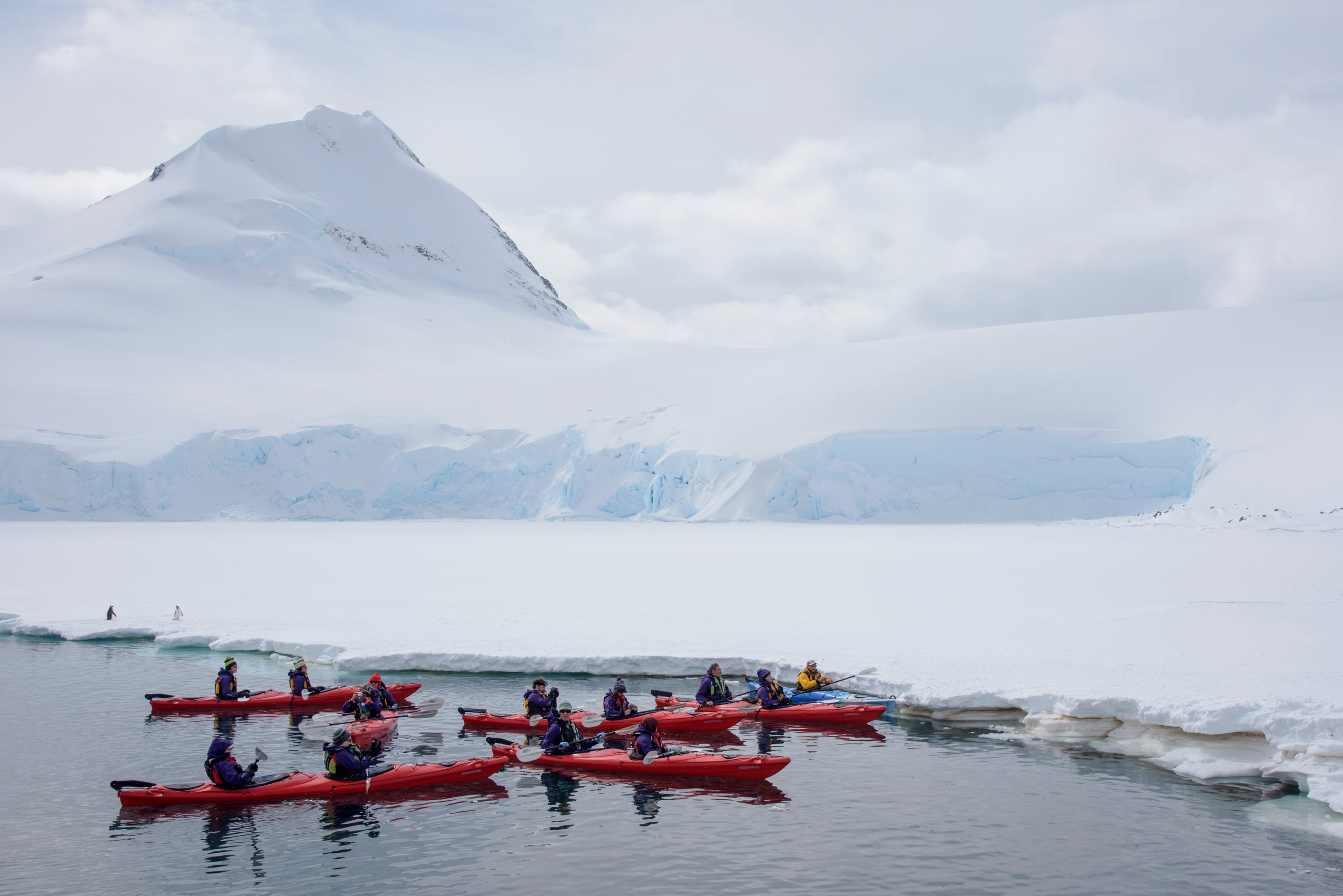 Mountaineering
Mountaineering excursions are offered for the most active adventurers who really want to get their hearts racing. Each qualified mountaineering guide leads as many as 12 expeditioners per excursion (up to six mountaineers per rope lead) on glacier walks to mountaintops that reward you with stunning views across the ice. Mountaineering experience isn't essential, but you will want to be in fairly decent shape for this activity as it can be quite taxing. If you do choose to take part, you will be provided with the necessary mountaineering gear including ropes, carabineers, harnesses, helmets, ice axes, and crampons.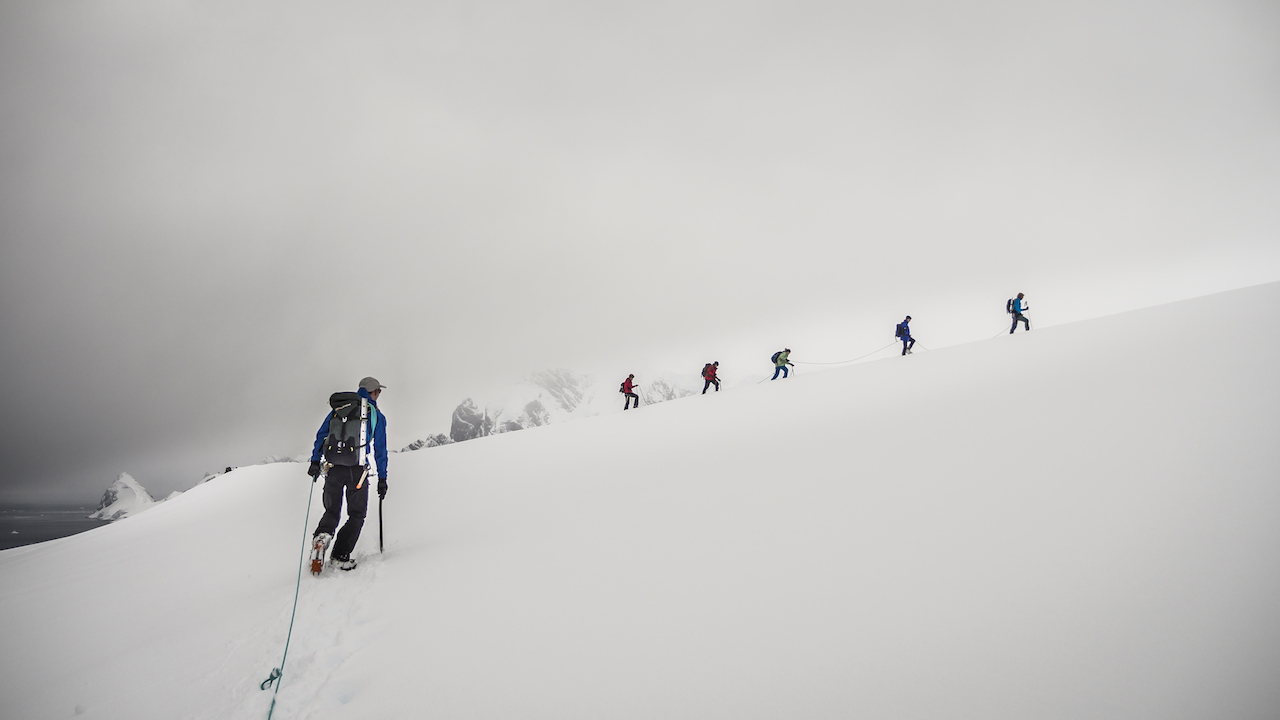 Antarctic Camping
After an action-packed day full of exciting adventures, you'll surely be looking forward to a good night's sleep! On Basecamp expeditions, you can get that sleep under the open polar skies! Say that again - we have a beautiful, warm ship and you want us to camp overnight on the ice? Why not, it's all part of the adventure and a completely unique experience. During the expedition, up to four nights are dedicated to overnight camps ashore. After dinner, those who choose to camp will be ferried ashore in the Zodiacs (where tents have already been set up for you) and you will be provided with windproof and waterproof bivouac bags, sleeping bags, and sleeping pads to keep you warm, dry, and comfortable. After a restful night ashore, you will return to the mothership the next morning, just in time to join your fellow travellers for breakfast!
So, what will it be? Kayaking through the morning, followed by an afternoon of photography? Or maybe an easy hike followed by an overnight campout is more your speed.

It's all up to you.
Basecamp Expeditions depart throughout the season between November and March each year. They are incredibly popular, and tend to sell out quickly, so you do need to book early. Prices for 2023 departures, including Basecamp activities, start at USD $9,100 per person in a quad share cabin, or USD $11,200 per person in a twin share porthole cabin. For bookings, or more information, contact the expert team at Expedition Cruise Specialists on 1800 90 20 80 (+61 7 4041 2101) today.
See the itineraries and departure dates by clicking on each of the ships below.