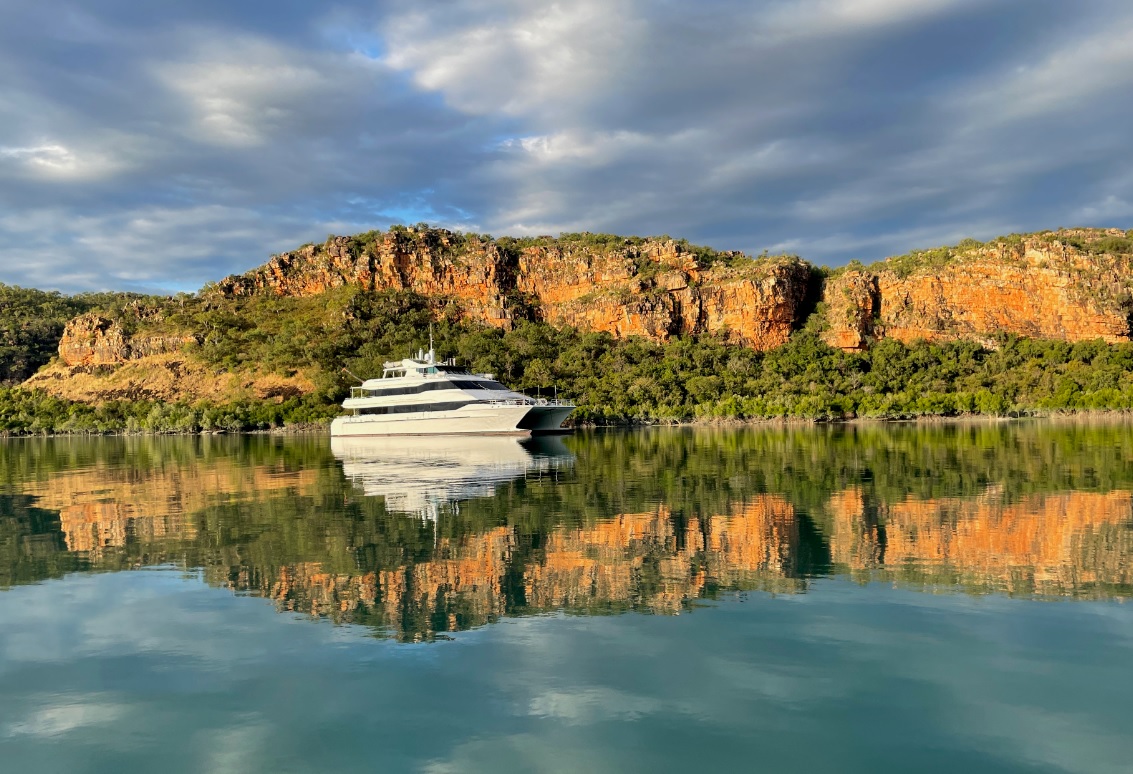 Cruising the Kimberley is a one-in-a-lifetime experience that deserves a place on everyone's bucket list. The majestic wilderness destination, located in Western Australia's far north, is filled with dramatic gorges, remote islands and stunning rivers that are best explored by boat.
We were introduced to the region's magic in May 2021 and our happy memories of the trip will linger with us for many years to come - we're already dreaming about making a return visit.
The first thing to consider when organising a Kimberley cruise is to choose the boat that best suits your needs. We were fortunate to have Andrew Castles at Expedition Cruise Specialists to guide us. He discussed our expectations and fitness levels, then advised us to choose a smaller vessel – the Reef Prince.
The Reef Prince was given a multi-million dollar refurbishment in 2019 and offers great value in a relaxed, stylish setting. It features a spacious dining and living room, plus a selection of shaded outdoor spots to admire the spectacular views.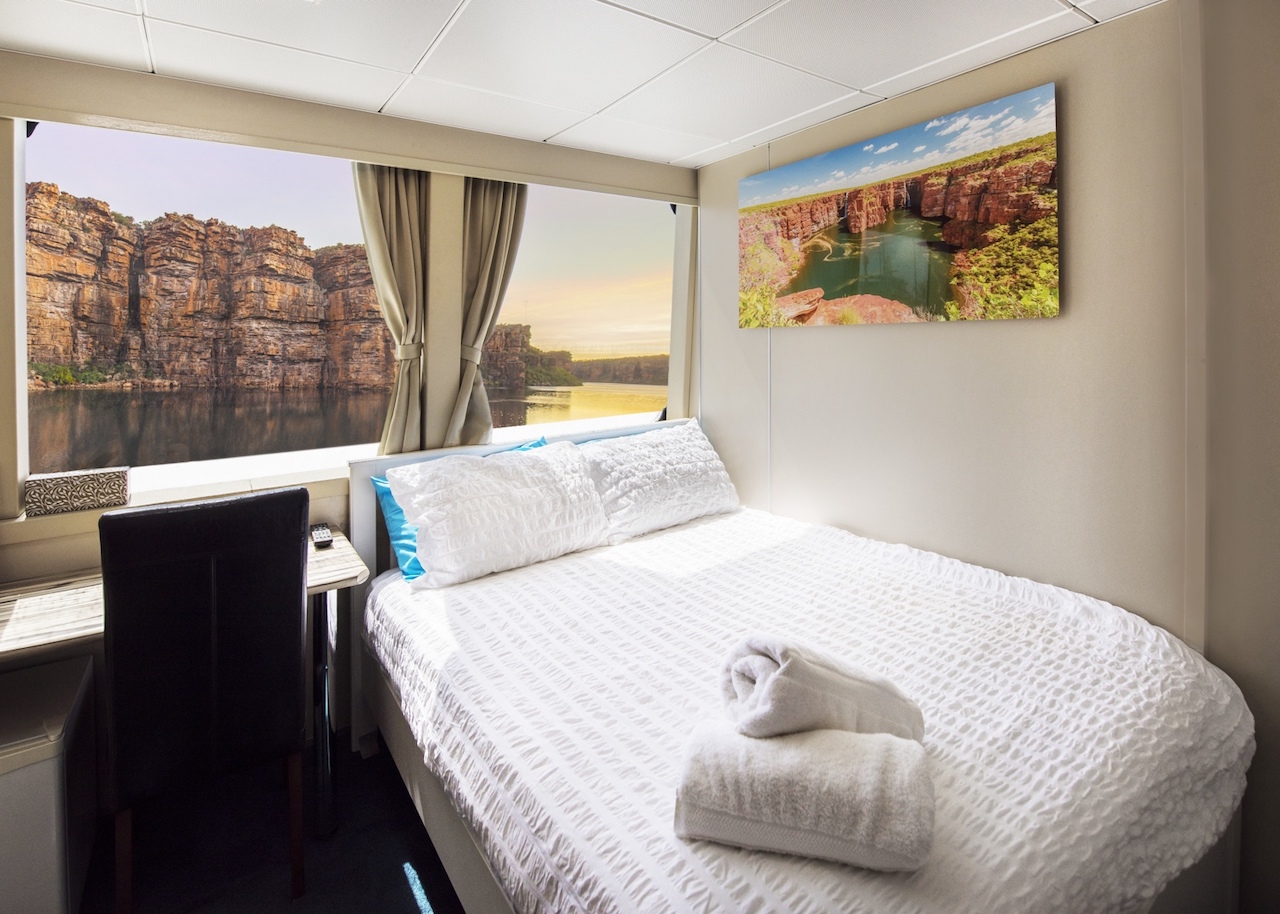 As the Reef Prince only takes 36 passengers – in 18 cabins, all with en suites - and is a compact 38- metre low-draught catamaran, it can visit destinations that are challenging or impossible for larger ships to navigate. It also offers more opportunities to disembark and explore on land.
However, a small ship may not be the ideal option for anyone who isn't relatively fit and adventurous, as there is some climbing involved to visit the more interesting Indigenous art sites and waterholes. Fortunately, we were both eager and able to take part in all activities on offer.
The energetic crew played a major role in our enjoyment of the trip. They included a chef who'd worked at a hatted restaurant, a daredevil first mate, a laconic captain and one of the best Kimberley tour guides in the business. Everyone on staff was incredibly helpful and passionate about their work.
As for the cruise itself, it was magical, from waking up to the most incredible sunrises at sea to sipping sparkling wine under the stars at night.
It's tough to choose, but here are our top six cruise highlights:
1. King George Falls
While many Kimberley cruise boats are too large to cross the sandbar at the mouth of the King George River, the Reef Prince can slip over and glide down to the famed King George Falls. The journey is every bit as spectacular as the destination, with dramatic ochre cliffs towering over the boat on each side. Our first glimpse of the double set of falls as they tumbled down the cliffside into the 60-metre-deep water below took our breath away. Other unforgettable moments came as we sat on the bow of a tender with the falls cascading onto our heads and our seafood lunch with a front row view of the falls.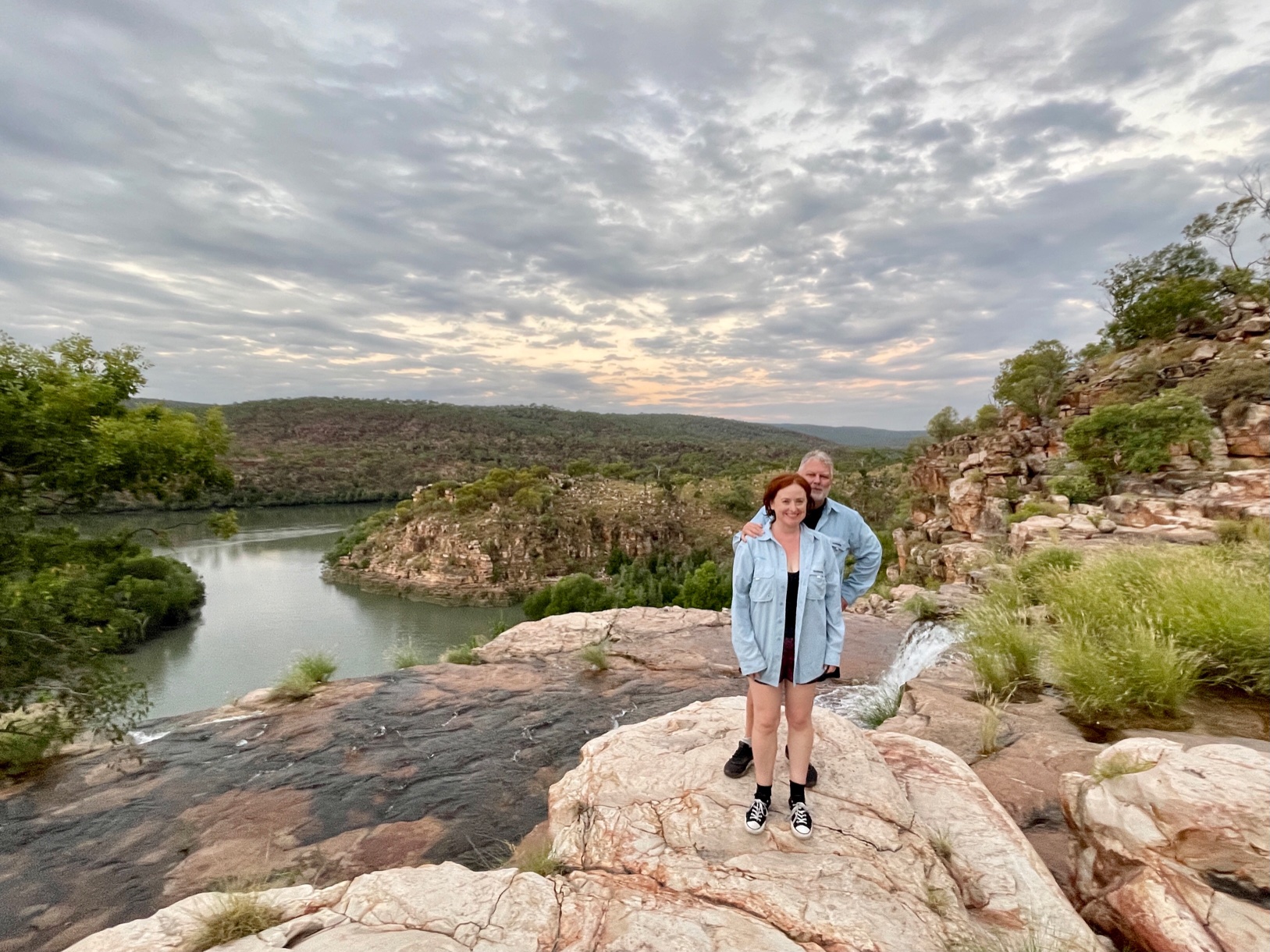 2. King's Cascade
Cruising along Prince Regent River to King's Cascade was another amazing waterfall moment. We arrived in the late afternoon and climbed up the waterfall to swim in a waterhole at the top. It was breathtaking to watch the sunset on the rocks above the waterfall, gazing out over the stunning Prince Regent National Park as the sky streaked with pink and gold rays.
3. Montgomery Reef
Montgomery Reef has been described by David Attenborough as the eighth natural wonder of the world, due to the rapidly falling tide that creates a series of streams and mini-waterfalls off the reef. We explored the reef in tenders, as turtles popped their heads out of the water every few seconds and small sharks and manta rays darted around us. Afterwards, we motored to a sand "island" that had emerged near the reef during the low tide and wandered along its virgin shores.
4. Fishing
We hadn't expected fishing to be a trip highlight, as we'd never tried it before, but it was a surprise winner for us, both as spectators and participants. The Reef Prince crew regularly took passengers on fishing trips and it was wonderful to eat our fresh catches at lunches and dinners. The boat also has two fishing chairs at the rear, where the passengers gathered on our last day at sea to shout encouragement and cheer as bonito tuna and golden trevally were reeled on board. Eating the tuna as sashimi an hour later was a delicious treat.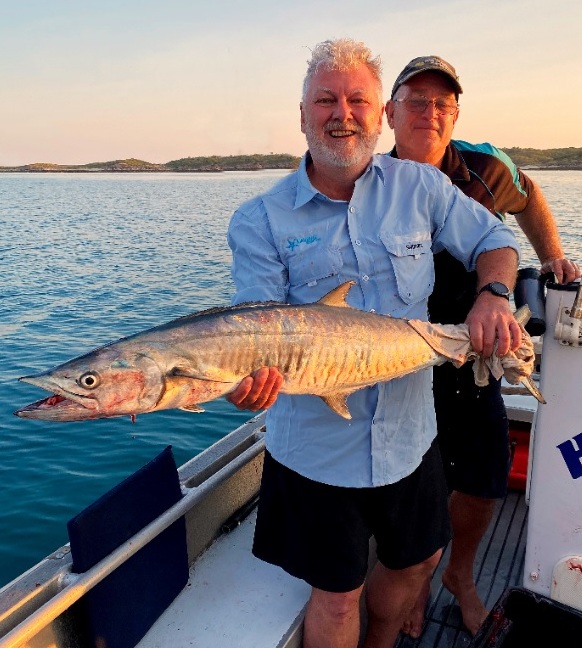 5. Dinner under the stars
The crew surprised passengers on the last night of our cruise by arranging tables on the prow of the boat for a dinner under the stars. We anchored at North Perron Island and long tables were draped in white tablecloths and decorated with shells and candles. We sipped pre-dinner cocktails and watched the glorious sunset before eating slow-cooked pork shoulder and asparagus pasta with lemon posset for dessert. As darkness fell, we gazed in awe at the Milky Way, which shone clear and bright above us.
6. Wildlife
A large part of the enjoyment of the cruise was spotting the native animals – wallabies hopping on rocky cliffs, sea eagles soaring majestically, tawny nurse sharks cruising behind the boat, flying fish scooting along the surface of the water and crocodiles sunbaking or emerging from the water. Our personal favourite moment was watching three brolgas majestically take flight from a sandy beach.
However, every day was different and included unforgettable moments, from exploring a crystal-scattered beach on a remote island to boating at high speed through Horizontal Falls to peering through the windows of a crashed World War II plane to sipping a beer while cooling off in a waterhole.
We loved the opportunity to grow our photography skills aboard the Reef Prince and got some great tips from our cruise director, who offered lessons to interested passengers. Visiting numerous Indigenous sites also introduced us to the fascinating history of Aboriginal art and inspired us to buy several artworks to enjoy on our walls at home.
Our Kimberley cruise on the Reef Prince was one of the most relaxing holidays we've ever had. There is no mobile phone reception on the cruise and we chose not to pay for wifi. It was blissful to disconnect from the modern world for 10 days. We spent many peaceful hours sitting on deck, watching the amazing scenery slide past, nibbling on cheese and crackers when the Captain announced afternoon tea was served, reading books and chatting to our fellow passengers.
Months later we are still in contact with the new friends we made aboard the Reef Prince. We regularly reminisce about how lucky we were to share the holiday of a lifetime together.
Alana House & David Fuller write about their adventures at www.thethirstytravellers.com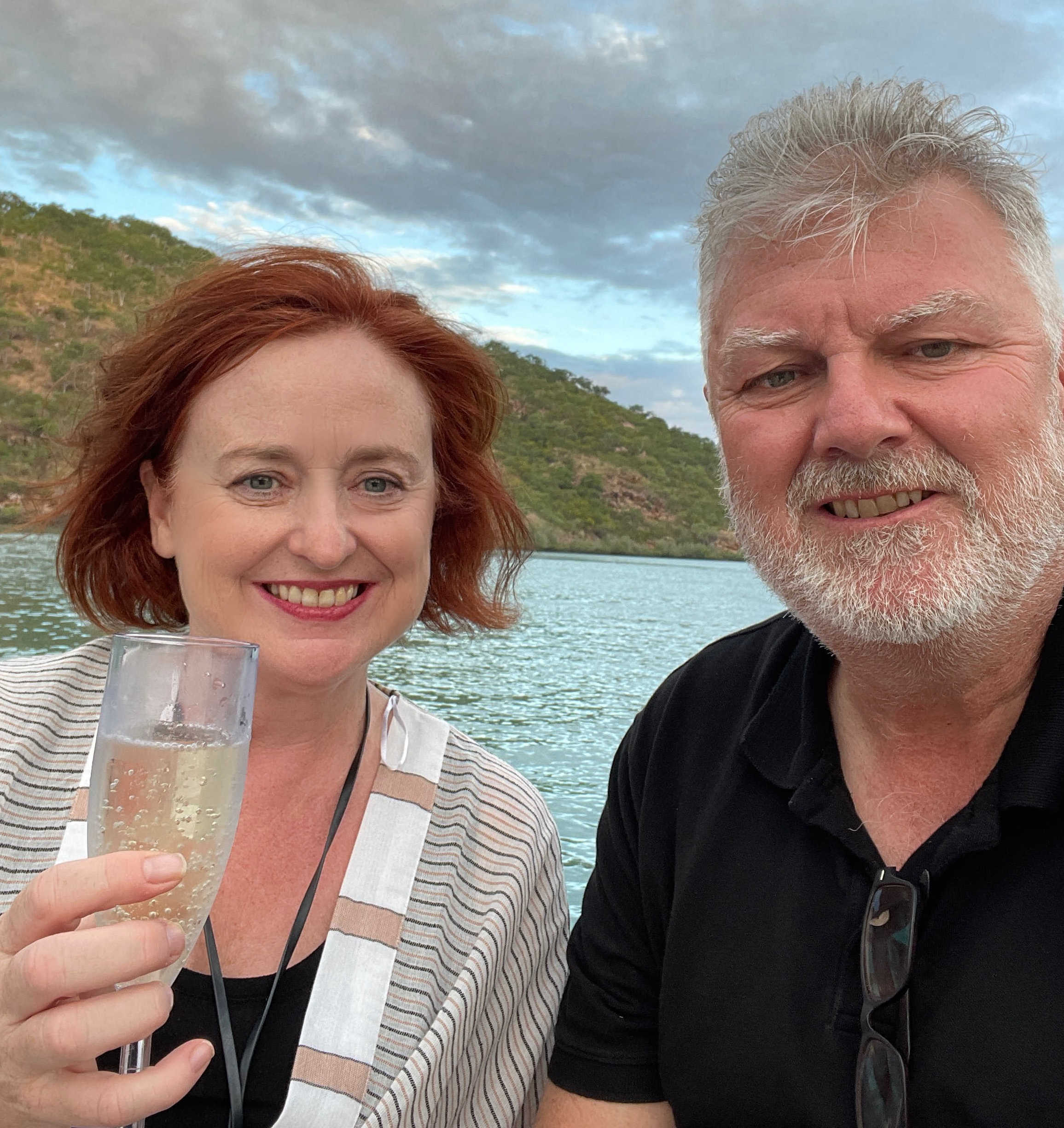 Alana and David joined the Reef Prince's 10-night Kimberley cruise from Broome to Darwin in June 2021. To secure one of the last remaining cabins for 20223 - or book for 2024 - please call the expert team at Expedition Cruise Specialists today on 1800 90 20 80 or visit https://www.expeditioncruisespecialists.com/ships/reef-prince.