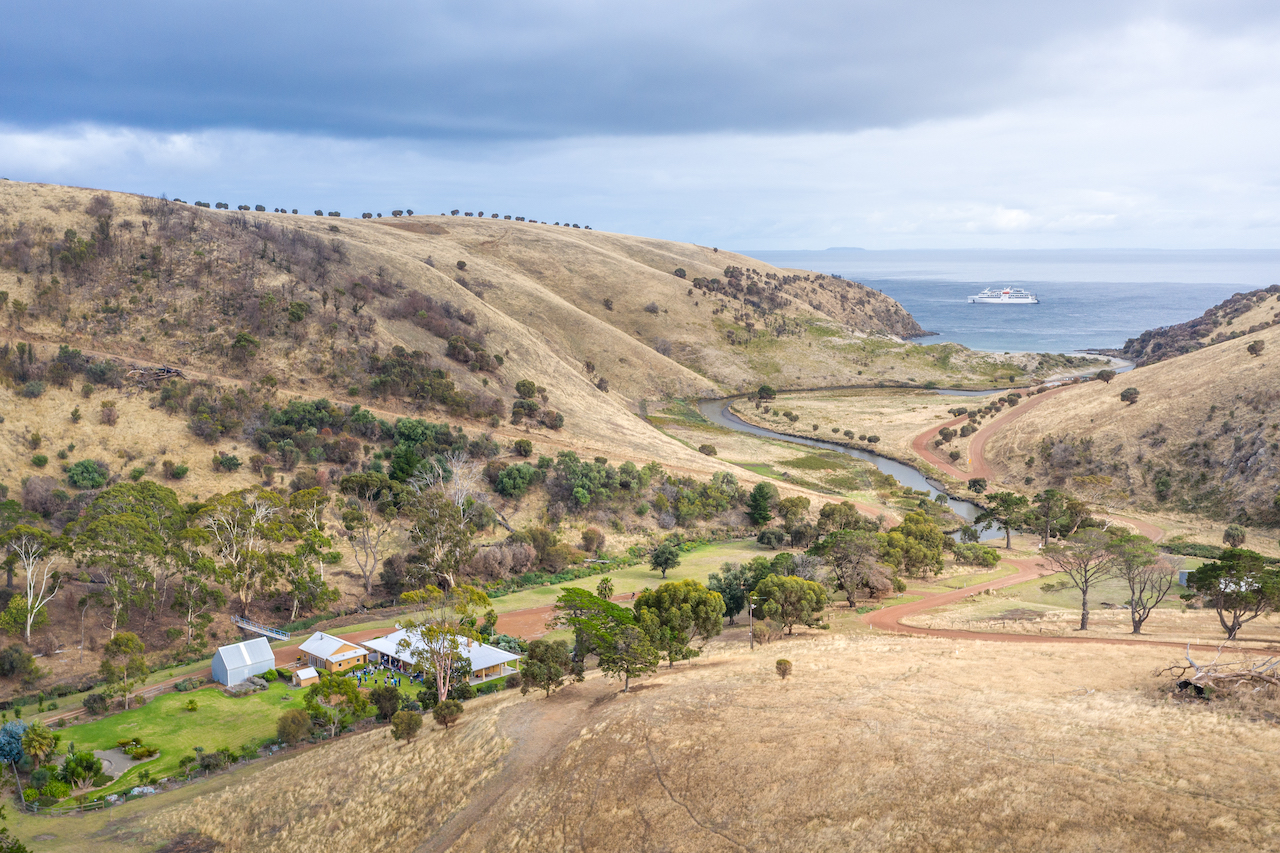 While there's no doubt that Covid-19 has been incredibly trying for us all in the tourism industry, there has been a few silver linings. For Australia's pioneering expedition cruise line Coral Expeditions, their fleet on three small ships usually spend half of the year plying the waters of the Pacific and Indian Oceans, from Mauritius to New Zealand and beyond. However, over the past 18-months international voyages of this type have been impossible, so instead they've used this 'downtime' to devise a series of exciting new itineraries to lesser-visited parts of Australia's vast coastline.'
Wild Islands & Walks of South Australia
One of the resultant itineraries that has us really excited is a ten-night 'Wild Islands & Walks of South Australia' programme departing from Adelaide between November 2021 and January 2022, and again in November 2022.
This new expedition provides travellers the chance to explore and hike South Australia's most picturesque and wild islands, where forested National Parks give way to sheer wave-carved cliffs and sweeping white-sand beaches. Accompanied by expert guides, expeditioners will study the flora, fauna, and history of these remote island habitats and coastal National Parks. For those keen on an active adventure, there will be ample opportunities to cool down with invigorating ocean swims, board the kayaks for a paddle n the turquoise waters, and encounter some of Australia's very-best native wildlife – inquisitive seals, shorebirds, rock wallabies, and many more.
Back on board Coral Adventurer, guests will enjoy the tastes of South Australia, prepared onboard by chefs making use of the very best local ingredients including fresh regional seafood and hand-selected local wines.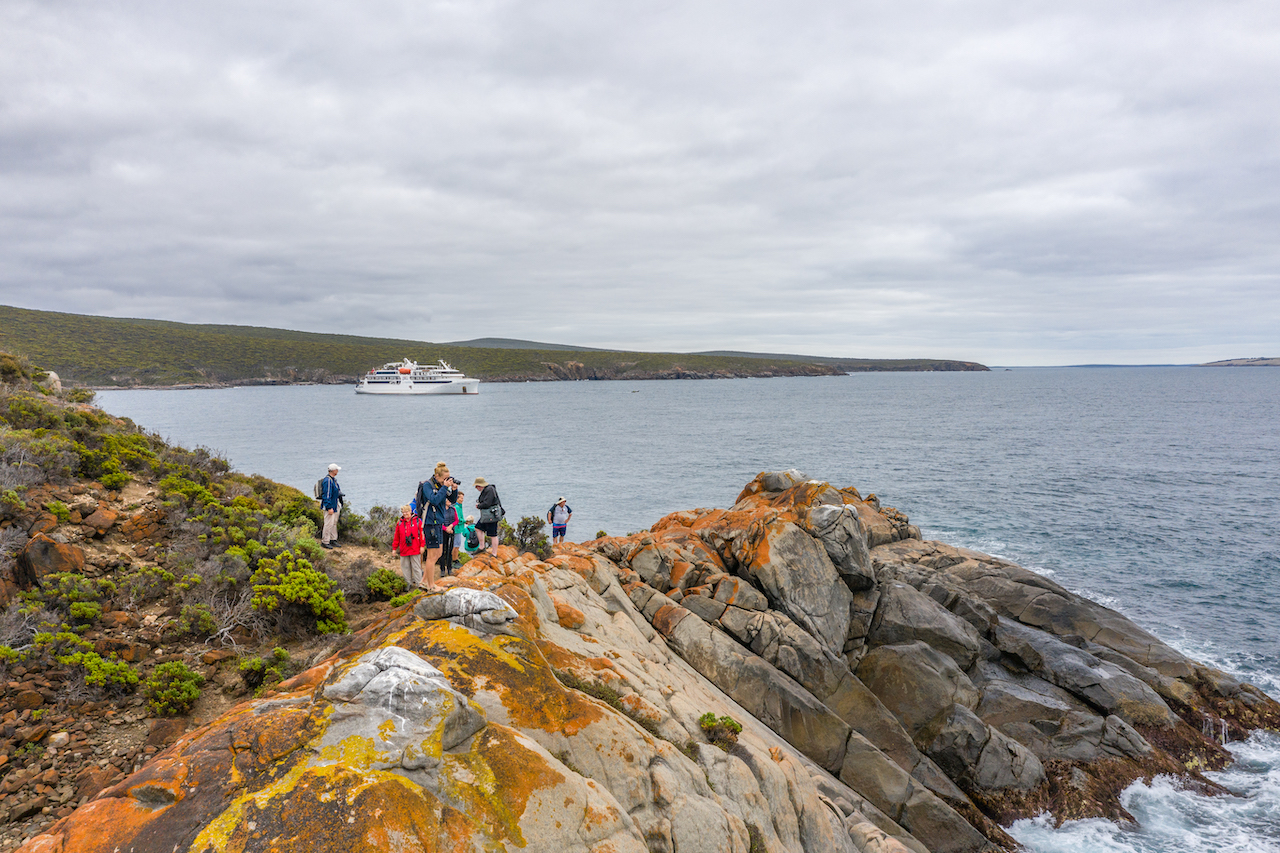 South Australia's many islands and gulf waters are amongst the best-kept secrets of the Australian coastline. With over 5,000 kilometres of deserted shoreline and more than 300 islands, there's a huge diversity of natural wilderness to explore. Highlights include spectacular bays and beaches, remote islands, and stunning sea cliffs. Best of all, most of it is wild and untouched, nature at its finest. That means these voyages offer a real sense of adventure and seclusion, and a vast array of wildlife. Many of the islands are important sanctuaries for birds, kangaroos, and wallabies, and especially seals and sea lions.
While in true expedition style the itinerary remains flexible to make best use of the conditions each day, guests will spend multiple days exploring Kangaroo Island, Flinders and Troubridge islands and the Eyre Peninsula. At Coffin Bay, there will also the opportunity to enjoy an unforgettable wild cuisine experience – hop into some waterproof waders and take a seat at the Saltwater Pavilion to shuck and taste your own delicious Coffin Bay Oysters. Some voyages will instead include a small boat cruise along the oyster beds to collect and enjoy them fresh from the sea.
Departure Dates & Information:
10 Nights | Departing & Arriving Adelaide | Onboard Coral Adventurer | See the full itinerary
Departures: 22 Nov 2021, 02 Dec 2021, 13 Dec 2021, 23 Dec 2021, 03 Jan 2022, 13 Jan 2022, 23 Jan 2022, 06 Nov 2022.
Prices (per person, twin share)
Bridge Deck Suite: $12,390
Explorer Deck Stateroom: $9,890
Promenade Deck Stateroom: $7,490
Coral Deck Stateroom: $6,390
Single traveller prices start from $9,585 in a Coral Deck Stateroom
To reserve your place on this exciting new expedition contact the expert team at Expedition Cruise Specialists today on 1800 90 20 80 or email [email protected].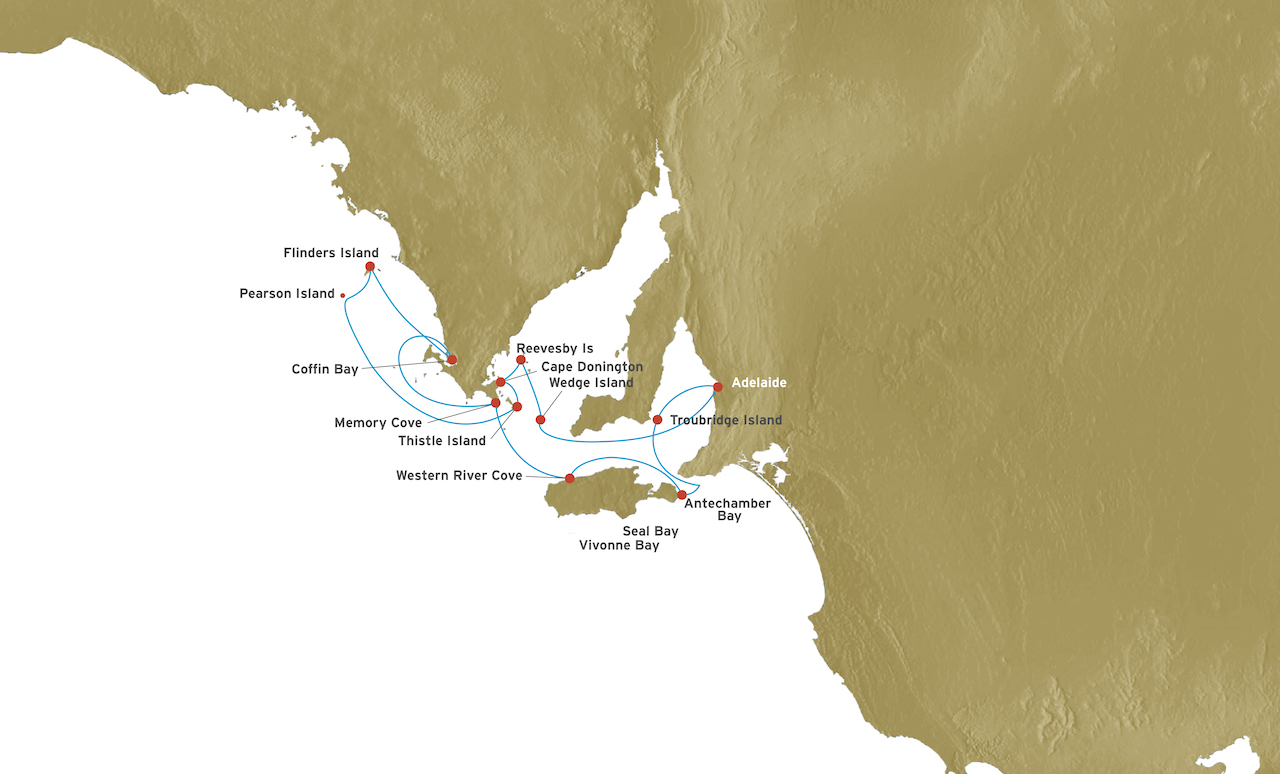 Your expedition ship - Coral Adventurer
Launched in early 2019, the state-of-the-art Coral Adventurer is purpose-built for cruising in the waters of Australia and the South Pacific. Coral Adventurer will operate these new South Australian voyages with a controlled capacity of just 99 guests on each voyage.
Guests will enjoy spacious a choice of five grades of stateroom (over half of which feature private balconies), comfortable lounge areas and a stylish dining room that accommodates all travellers in one sitting. There's also a selection of bars and ample deck space for those keen to find a bit of solo time to read a book or take in the views.
Travellers will enjoy Coral Adventurer's flexible range of excursion tenders. Two unique Xplorer tenders make getting around in comfort a breeze, while a fleet of zodiacs are also on hand for thrilling small group adventures. There's also kayaks available for those who are keen to head off an explore under their own steam. And, right throughout the voyage, you'll be accompanied by a knowledgeable expedition team, considered by many to be the 'best in the business'.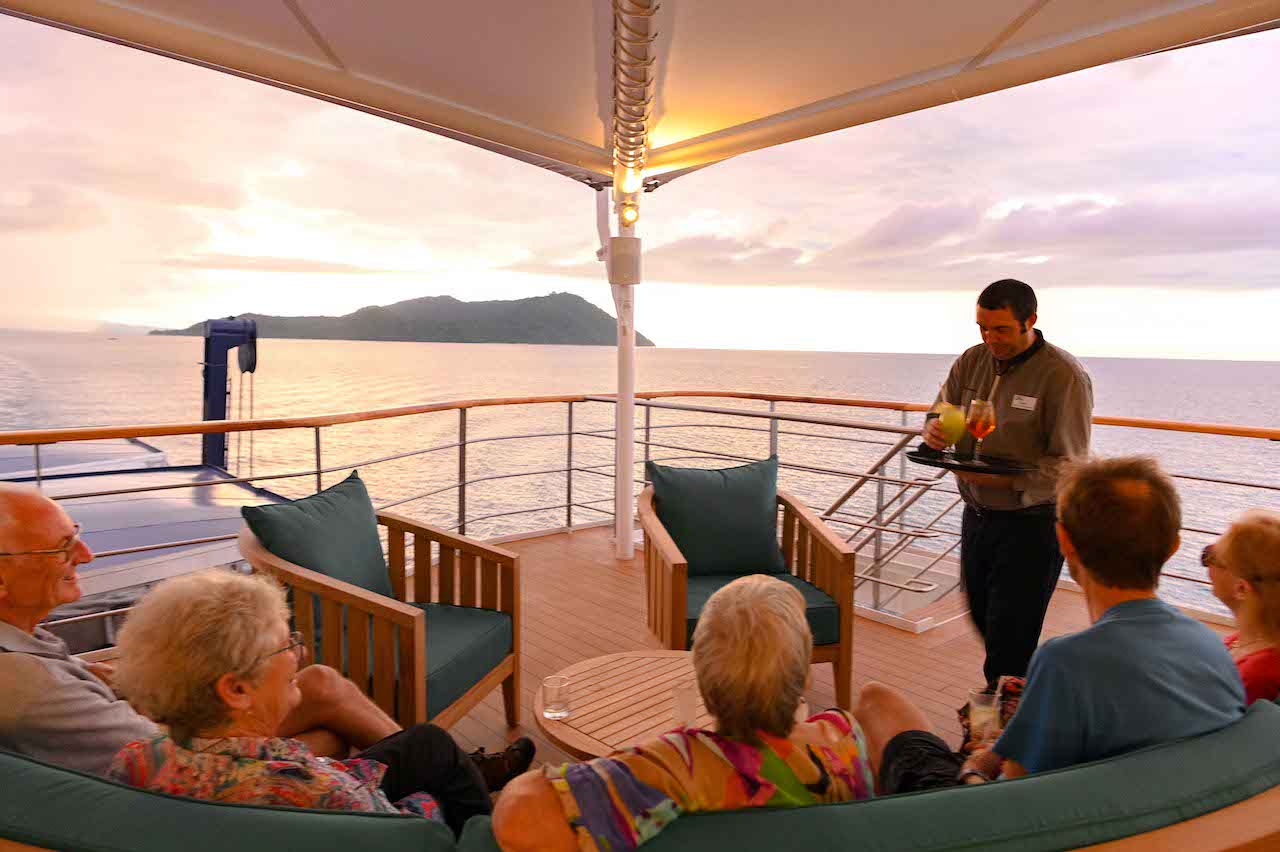 A note regarding Coral Expeditions' Covid-19 and Border Policies
Coral Expeditions made a successful return to cruising in October 2020 and their SailSAFE medical protocols are approved by all authorities. As a result, they are confident that their sailing schedules will operate as planned. They acknowledge that there will be government border restrictions from time to time that may restrict guests from travel. Coral Expeditions will communicate directly with all booked guests and travel agents regarding affected cruise terms. If you do not believe you will be able to travel, you may contact Coral Expeditions at any time citing a relevant government announcement and request a deferral. Note that the expectation of future announcement is not sufficient to grant a deferral.
If, at any time before a voyage departs, any state or federal government announces a) inter-state border closures; b) new quarantine requirements or c) 'hotspot' lockdowns that result in any of the following outcomes:
1. We will inform you that Coral Expeditions is cancelling the voyage.
2. You inform us that you are unable to join the voyage.
Guests will receive a 100% future cruise credit to defer their cruise with Coral Expeditions. Guests will also be protected against any rate increases on like for like itineraries and will have no fees or charges applied. The cruise credit has no expiry date and can be used on any future voyage with Coral Expeditions.