Getting ready for your expedition cruise depends very much on where you are going.
Obviously clothing and equipment for your Antarctic adventure will be completely different to a walk in the Amazon rainforest.
However, there are certain items and personal requirements that go hand-in-hand for all expedition cruises.
The very nature of most expedition cruises requires that you be reasonably fit. Now, I have seen people in their 80s handle a cruise to New Guinea or the Kimberley with ease, so you don't have to be extremely fit.
However I would advise a certain amount of fitness and mobility is required if you are going to go ashore each day.
Having said that, you can certainly stay on board the ship for the duration of the cruise. You don't have to go ashore if you are not confident.
For example, when I cruised on Coral Expedition's Kimberley adventure some years ago, there were some guests who went on the Xplorer boat each day, but didn't go ashore. This was easy for them because the Xplorer loaded right off the back deck. You simply walked out through the dining room and the boat was sitting right there, ready to step aboard.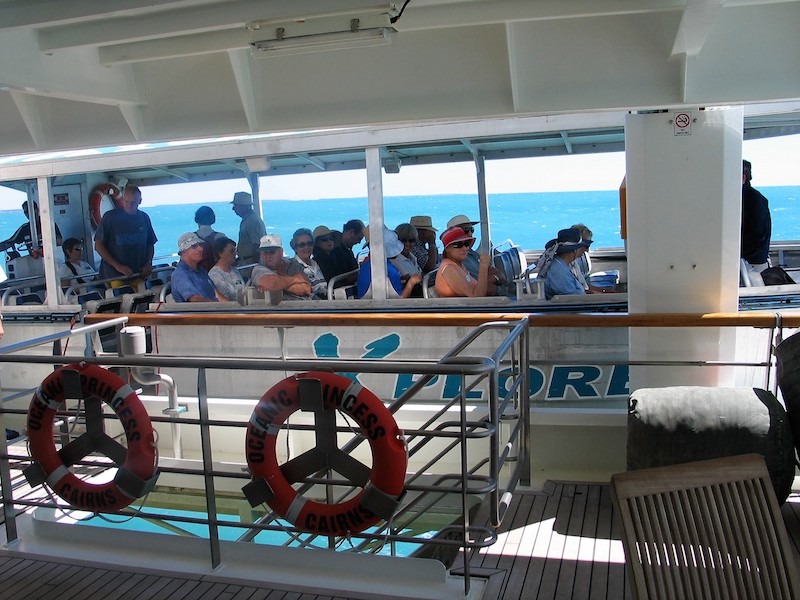 Excursion tenders like the Xplorer make it easy for most people to visit wild places.
If you have a medical condition it is essential that you tell the staff on board, especially your expedition leader, so they can keep an eye on you.
The experts on your ship will never put you into places that require advanced fitness. They have to ensure that every expeditioner can get ashore safely and with ease.
To prepare, I always do some walking every day and I include a few gentle hills to put some fitness into my legs and body. I also walk on the beach and in shallow water along the shoreline. It helps in getting your balance and being used to 'wet' landings.
Each day your expedition leader will advise you whether it is a 'wet or 'dry' landing. On a wet landing you will require sturdy sandals or some sort of footwear that can handle being submerged and walking on rough surfaces like coral and rocks.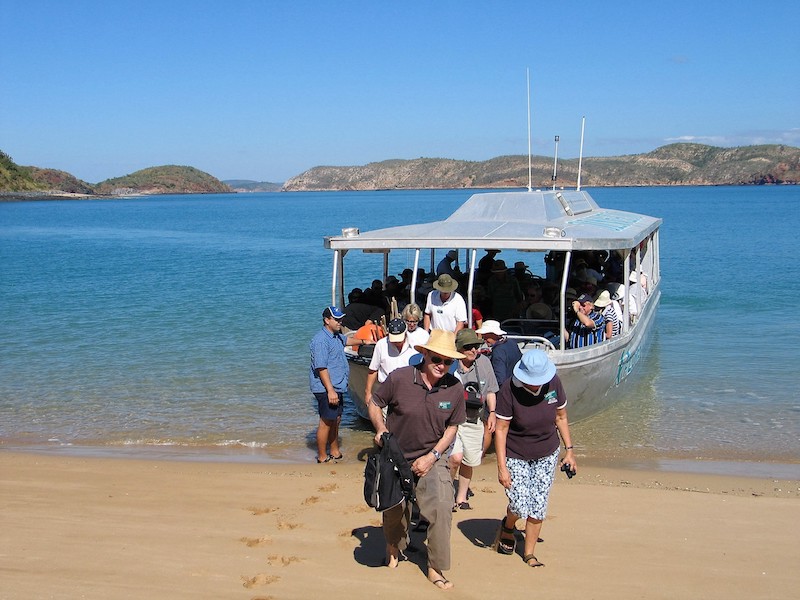 A wet landing like this one requires suitable footwear or good old bare feet.
Equipment required will be explained to you by your expedition cruise line well before you leave home.
However the 'no brainers' include a wide brimmed hat, insect repellent, sunscreen, a water bottle, wet wipes, sunglasses that are firmly attached, binoculars and very sturdy backpack.
If you have prescription glasses, make sure they are firmly attached and can withstand a substantial blow. I always recommend that you take a second pair of glasses and leave them on board the ship 'just in case'. A second pair of sunglasses is also suggested.
On one expedition cruise, I saw a lady from France lose her glasses under a waterfall. She had a spare pair, but they were sitting in her apartment in Paris. The lady had a substantial vision impairment, so she struggled to get through each day for the rest of the trip.
Clothing includes a water resistant jacket, loose fitting comfortable day wear, casual wear for nights and, as I always recommend, a pair of shorts. It is amazing how many people show up for expedition cruises with clothing more suitable for the Queen Mary than a journey through the wilderness.
They are generally people who have done a lot of normal cruising but have never been on an expedition.
"I didn't realise everyone would be wearing shorts and T-shirts with sandals. I wish I had known, I bought long pants and joggers," is a common comment I hear.
Finally, a suggestion that is close to my heart. Purchase a water resistant, and preferably, waterproof camera bag for your prized possession. Spray is a constant hazard on expedition boats. I would go for Go Pro type camera if you are going to be doing a lot of exploring on the water or around waterfalls.
I destroyed a brand new Canon camera standing next to Victoria Falls in Zimbabwe. The haze from the falls formed a faint mist that penetrated everything.
These days I download my photos on to a small laptop each night on board ship. It's too late when you get home and find you have lost all your precious photos.
Dallas Sherringham is a media professional, world traveller and regular contributor to our blog. Some imagery has been supplied by Michael Osborne.