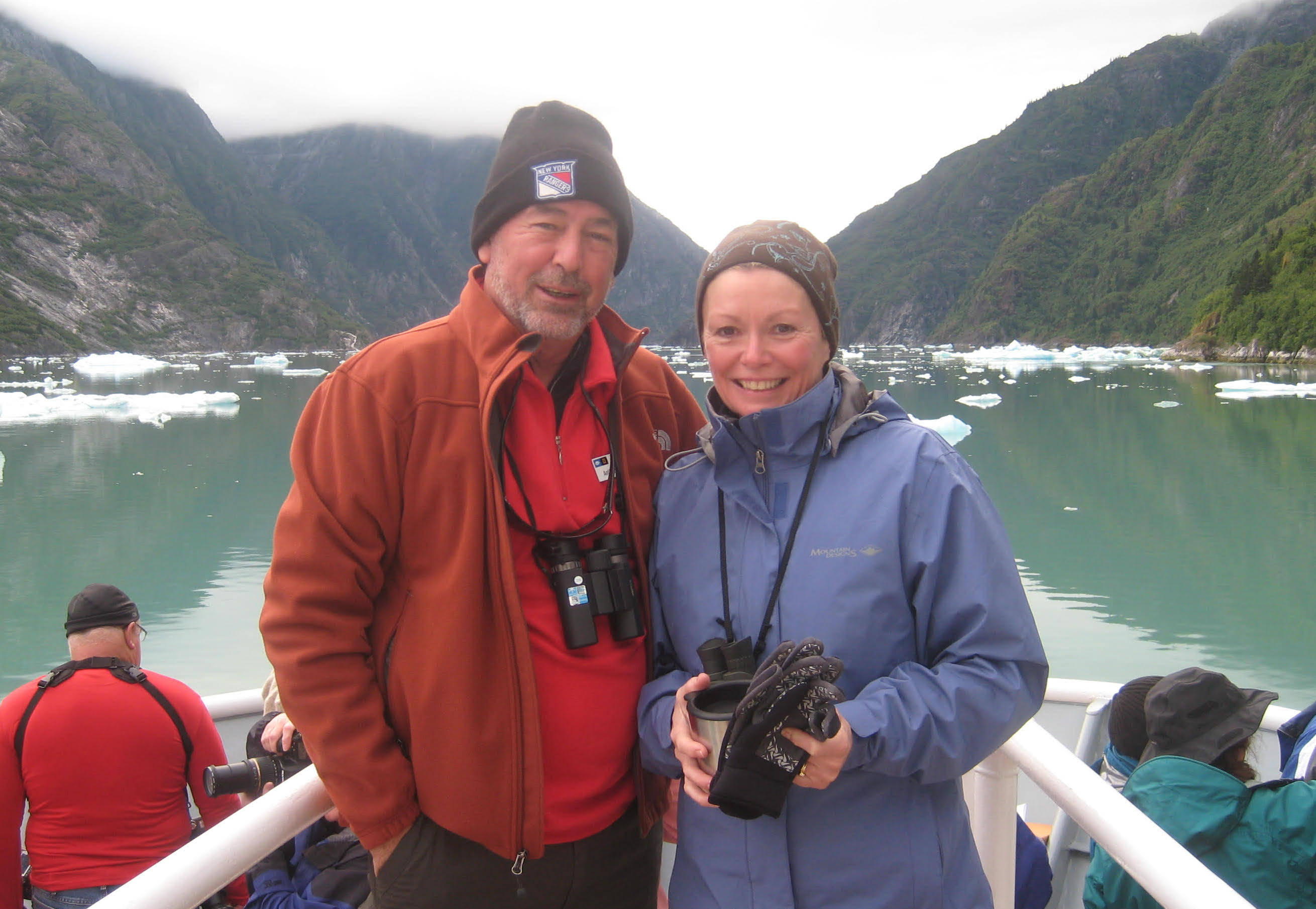 Tony and I were lucky enough to join Lindblad Expeditions in August to cruise Alaska's Glacier Bay National Park aboard one of their expedition ships, the National Geographic Sea Bird. We had wanted to explore this part of the world for many years, and it's fair to say that Alaska didn't disappoint. Here's our review of the trip.
The Itinerary
We chose the seven night Exploring Alaska's Coastal Wilderness expedition between Juneau and Sitka, both relatively easy small cities to reach. Highlights of the expedition included exploring Glacier Bay National Park, a visit to historic Petersburg and lots of wildlife encounters. There were excursions each day, and regular walks ashore (moderate difficulty). We also loved the opportunity to jump in the kayaks (they have both single and double) to paddle out from the ship amongst the glaciers. Happily for us we encountered lots of wildlife, from feeding brown bears to playful whales and that most iconic American symbol, the Bald Eagle. You can view a map of our voyage below.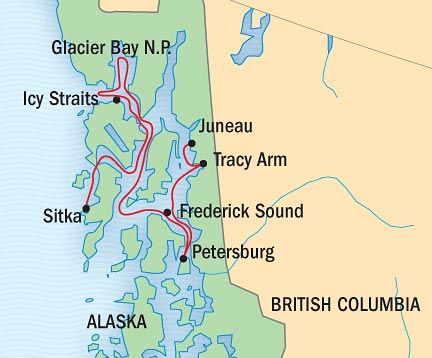 You don't need to be super fit to join the expedition, anyone with a general level of mobility will be able to get a lot out of the trip. There were some longer walks (optional) that do require a bit of stamina if you are inclined to join them.
Although we travelled in August - the peak of the North American summer - being so far north it was of course still quite cool. When packing for this voyage always think about layers. On some of the walks ashore the sun did manage to peek out and having the ability to peel off a layer or two was a godsend.
Being seven nights long the itinerary was an ideal length for us as it was part of an extended trip in the US. If you're after a longer expedition however, Lindblad Expeditions do offer a 15 day adventure between Sitka and Seattle, which includes Haida Gwaii.
The Ship: National Geographic Sea Bird
Lindblad Expeditions currently operate two sister-ships on their seven night Alaska programmes, Sea Bird and Sea Lion. Tony and I travelled aboard Sea Bird. Launched in 1982, she carries 62 guests (plus 25 crew) and at just 50 metres in length she is small enough to access all the coves and tributaries you want to explore on a cruise like this. Indeed the ships are small enough to pull close to shore to allow guests to see brown bears feasting on a kill, an encounter we were lucky enough to experience.

While not state-of-the-art, both Sea Bird and Sea Lion are hardy little ships with a lot of charm, and once you're settled in you will realise they have everything you need for a successful expedition, including a fleet of zodiacs and a number of single and double kayaks. Recent refurbishments have brought the ships up to date somewhat, but you do need to moderate your expectations; these ships were built as true expedition ships over 30 years ago and don't have all the bells and whistles you are likely to find on new ships today. Having said that, we thought the ship was very comfortable and was well suited to the itinerary. There was a pleasant dining room and other spaces to gather with fellow travellers to check out the stunning views whilst underway. For those seeking a little pampering there is also a small spa / beauty salon.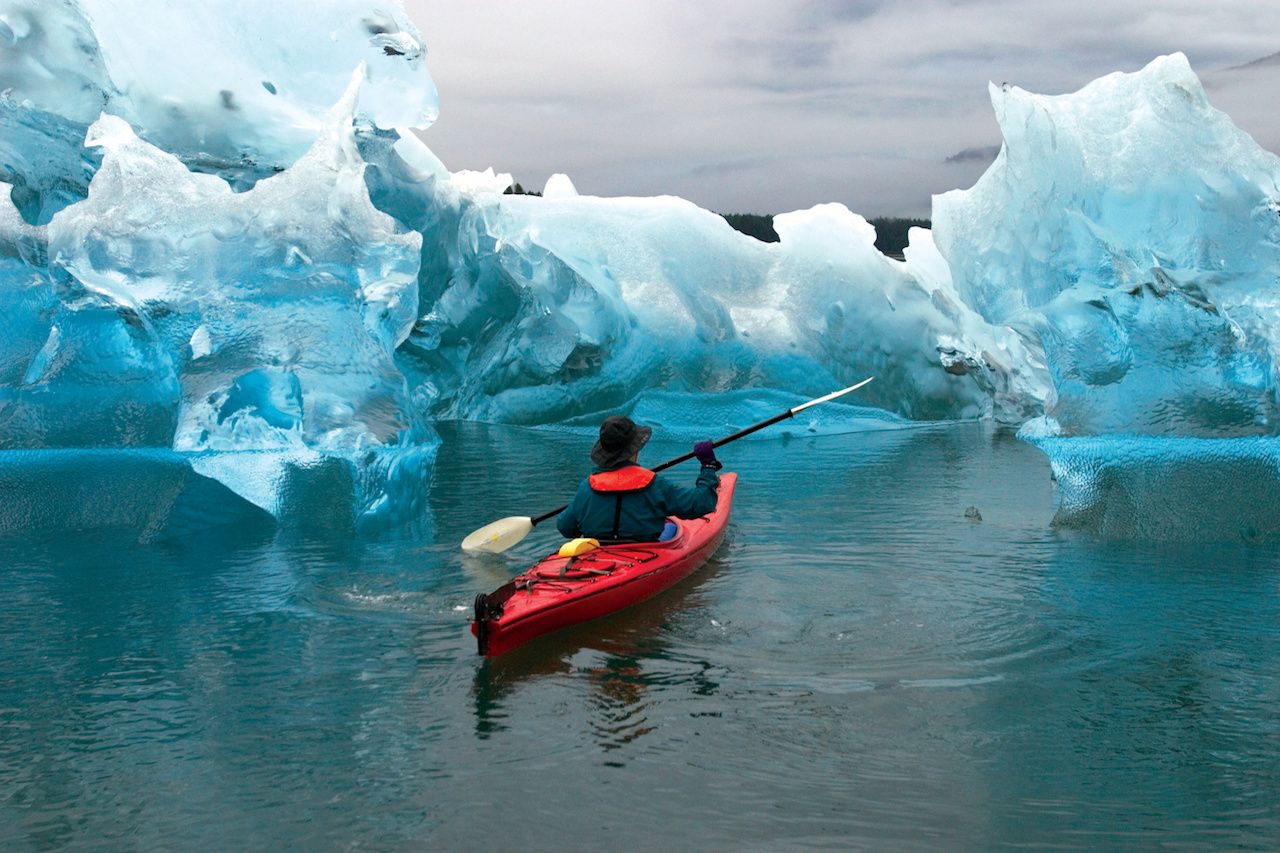 Both Sea Bird and Sea Lion will be retired over coming years as two new ships join the Lindblad Expeditions fleet, the first being National Geographic Quest in 2017 followed by National Geographic Venture in 2018. Slightly larger than the existing ships, these new vessels will accommodate up to 100 guests.
The Cabin: Category 2
Our first thought once being shown to our cabin for the week was "wow, it's compact!". At around 8 to 9 square metres (about 100 square feet) there's not a great deal of space, but once you've unpacked, put the suitcases under the bed and settled in you will find there's more than enough room to relax. Our cabin, which was designated Category 2, had two single beds, as is the case in most of the cabins on these ships, and they are laid out in a 'L-shape' fashion.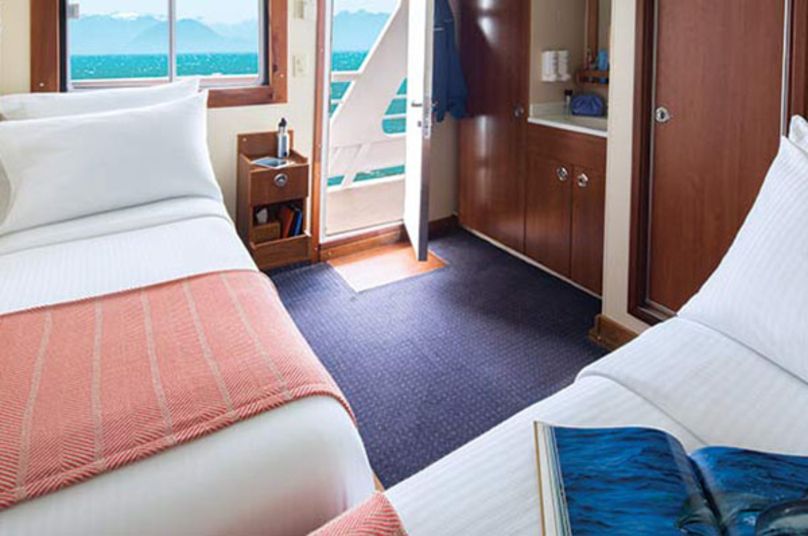 All rooms open directly on to the deck, and with a large window you'll always be reminded that you're in Alaska by the wonderful views right outside. For added privacy there are curtains on all windows. Other amenities include temperature control and also WiFi access, which does incur a small additional cost.
Of course each cabin has its own smallish en suite, with toiletries including shampoo and bodywash replenished daily. The rooms are serviced daily by the unobtrusive crew with towels regularly changed.
Slightly larger Category 3 cabins also offer the option of a Double bed.
The Dining
Dining during the cruise was hearty and plentiful. Breakfast and lunch were served as buffets in the dining room, whilst dinner was offered as table service from a small a la carte menu. Outside of meal times there is always something to nibble on if you're a bit peckish. Each night Tony and I marvelled at the massive platters of cheese and local Dungeness crab served during pre-dinner drinks, we had to be very restrained to ensure that we would be able to fit in our clothes by the end of the week!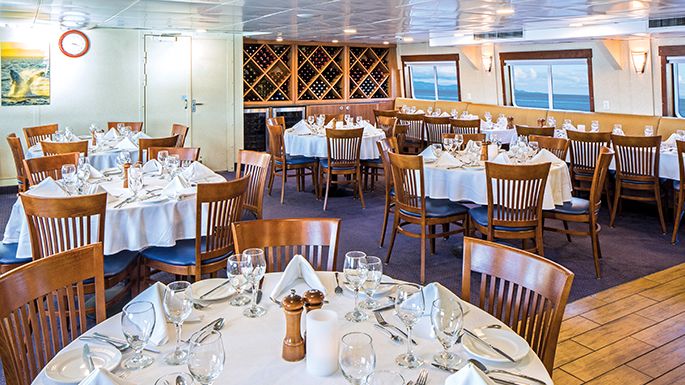 Dinner was always a popular event, with a throng of travellers eagerly awaiting the nightly dinner call… exploring Alaska takes a lot of energy that needs to be replenished! Inside the dining room the seating is open, meaning you can choose to sit with friends, or mingle about and join others on their tables. It's always great to sit with some different folks for dinner, you'll find that you end up meeting many fascinating people who have interesting stories to tell.
The dining is by no means Michelin-star quality, however it is plentiful, hearty, and fresh. Lindblad Expeditions also pride themselves on their sustainable food program, meaning that all produce used on board must me sustainably produced and farmed.
The Expedition Team
Lindblad Expeditions are noted for their expedition teams, and we couldn't fault ours. Made up of three Guest Lecturers, along with Expedition Leader Linda, and a photographer/videographer, the expedition team ensured our experience in Alaska exceeded our expectations. The expedition team know this part of the world like the back of their hands. They knew where we were likely to see brown bears, the best places for walks and had a wealth of knowledge that was simply incredible and a joy to listen to. On most trips a native Tlingit interpreter joins the ship for a day to share some local tales and secrets.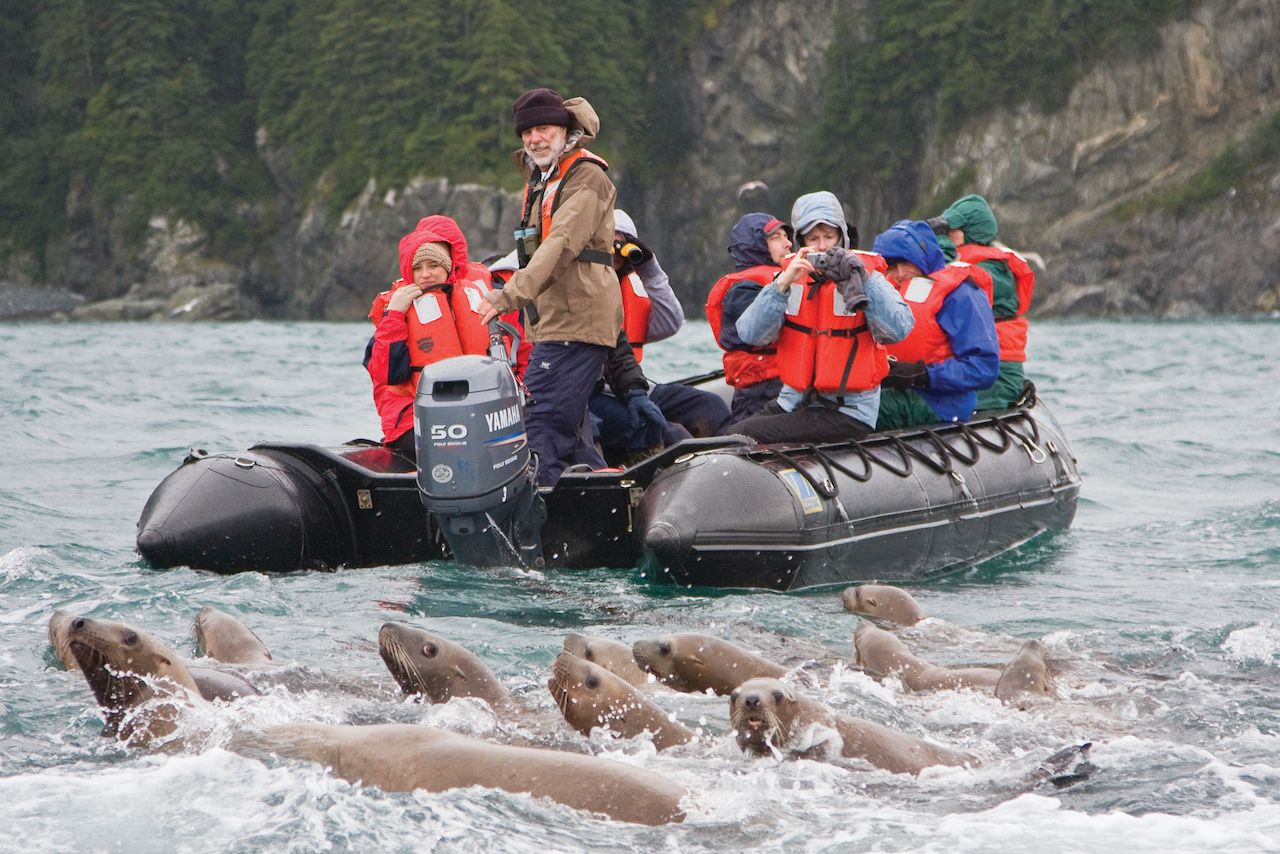 Our Verdict
Tony and I loved our time aboard Sea Bird, and Alaska certainly surpassed our expectations. For us, no one "does" Alaska better than Lindblad Expeditions, and in a large part these plaudits are due to their exceptional expedition teams, certainly ours was the best we've ever travelled with.
This is a trip we highly recommend to everyone, and with Lindblad's two brand new ships coming online over the next 18 months we're sure the experience will be even better.
This expedition departs during the northern summer, between May and August each year. For more details and upcoming departures click here or telephone us for further information and bookings.