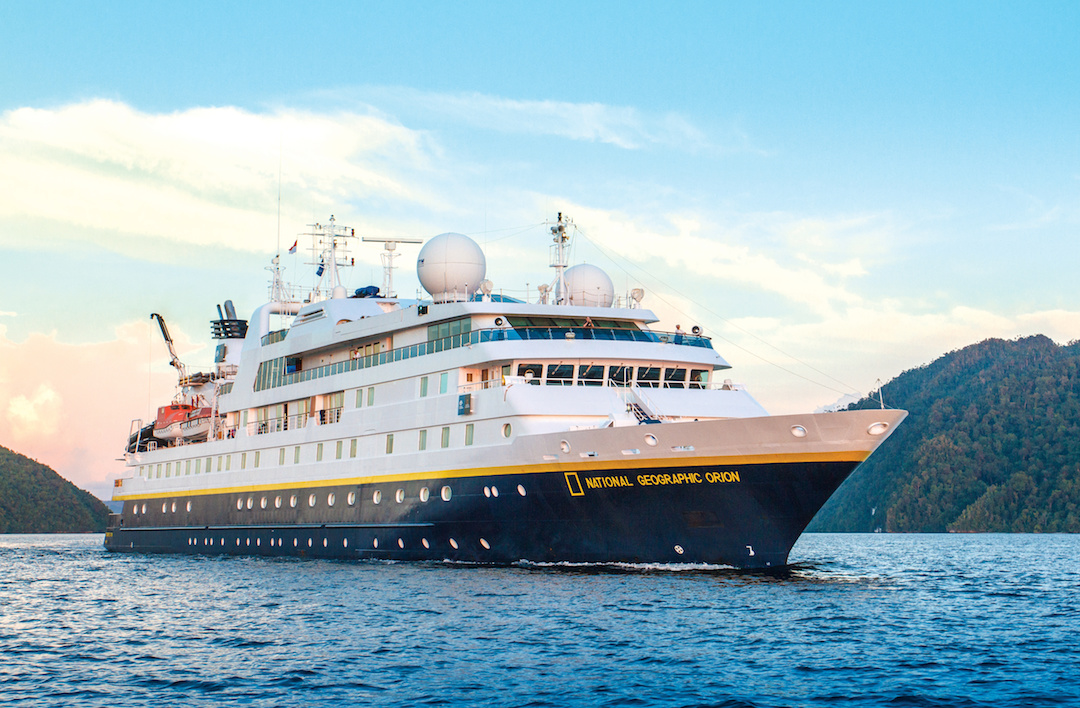 The 102-passenger National Geographic Orion is a familiar expedition ship to many Australians, having been based in our part of the world for several years while she was operating under the Orion Expedition Cruises banner to locations including the Kimberley, Papua New Guinea and the South Pacific.
After farewelling Australian waters a few years ago now, Orion was integrated into leading North American expedition company Lindblad Expeditions' fleet as the National Geographic Orion. She has quickly become a staple down in the Antarctic region, offering cruises from South America during the peak Antarctic months of November to March, filling in the rest of the year with a series of European cruises during 2017 and a full schedule planned for the South Pacific (Tahiti, Fiji, Kiribati) between March and September 2018.
And now, just this week, we've been handed details of an exciting new schedule of departures for National Geographic Orion in 2019, focusing on the Bering Strait and Russian Far East. What's particularly exciting about these voyages is that they are to regions which have been notoriously hard to reach in the past. For example, the Siberian Coast and Wrangel Island are bucket-list destinations for expedition cruisers, however there's only ever been a couple of departures a year aboard the sturdy little Spirit of Enderby to cater to the growing demand.
Here's details on the three different programmes on offer. If you're interested in securing a berth we encourage you to get in early as there is only limited space and we expect these new programmes to be filled quickly by Lindblad's large North American customer base.
Nome (Alaska) to Seward (Alaska)
Departing 9 July and 4 September 2019
Price from $20,290 per person
This 13-day itinerary explores the Bering Strait, a body of water separating the United States from Russia. While most of the voyage is spent in US waters, there is a brief crossing into (and landing) in Russia in the town of Provideniya. Other highlights of the expedition include exploration of the Pribilof Islands – home to about half the world's population of fur seals, brown bear spotting in Katmai National Park and rarely-visited Kodiak and Shumagin islands.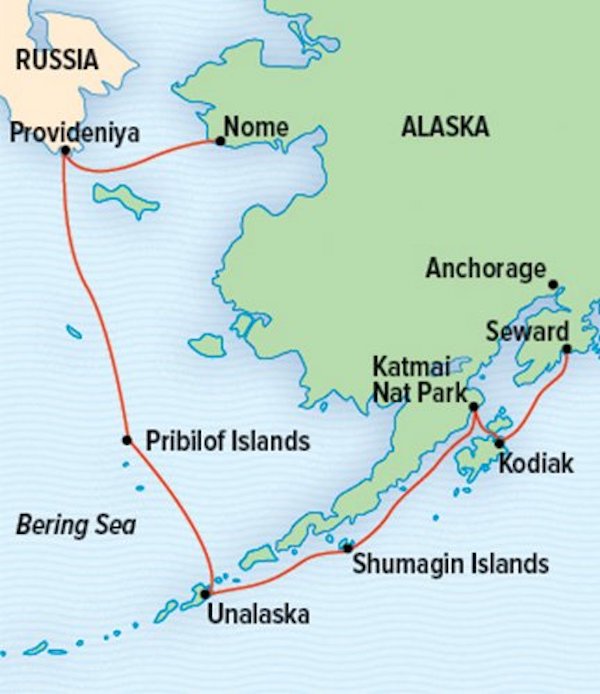 13 Day Russia's Far East and Wrangel Island
Nome (Alaska) to Nome (Alaska)
Departing 11 August and 23 August 2019
Price from $20,290 per person
This is the voyage that we're perhaps most excited about. Not only does it cross the Arctic Circle into the Russian High Arctic, there's also time spent exploring remote villages and towns on the Siberian Coast and, to top it all off, a four-day expedition around Wrangel Island Reserve, a UNESCO World Heritage site dubbed the 'polar bear nursery'.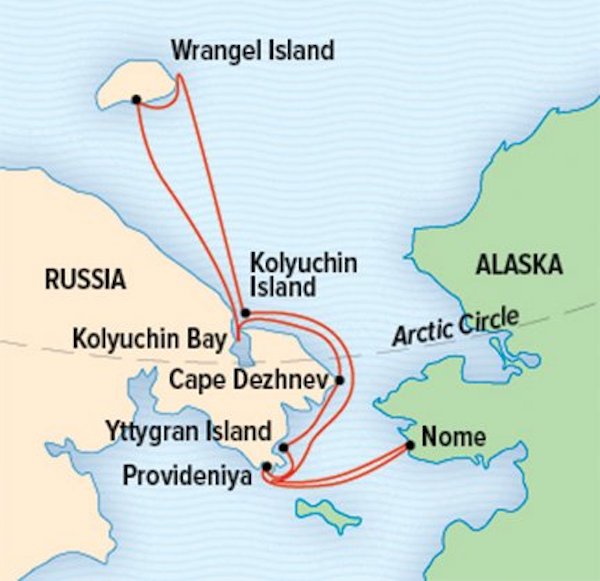 22 Day Across the Bering Sea: From Katmai to Kamchatka
Seward (Alaska) to Nome (Alaska)
Departing 18 June and 21 July 2019
Price from $32,320 per person
For those with a bit more time, this 3,800-nautical mile journey almost circumnavigates the Bering Sea and explores one of the most rugged and wildlife-rich regions of the planet. You will have the chance to spot coastal brown bears from Katmai National Park to the Kamchatka Peninsula, search for Steller's sea eagles along the scenically stunning Zhupanova River and marvel at the abundance and variety of marine mammals and seabirds from the Aleutians to the Commander Islands.
About the National Geographic Orion
National Geographic Orion accommodates just 102 guests in 53 staterooms and suites, nine of them with balconies. She is equipped with a full complement of cool tools to explore the environment, including kayaks, 14 heavy-duty Zodiacs, and an ROV. Her size and nimbleness offer the perfect combination of safety and the liberty to voyage untrammeled locations, where large cruise ships and less experienced expedition teams cannot go.
Click here for full details on National Geographic Orion