Over the next year or two we're going to see some exciting additions to the world's polar fleet, with two of our favourite 'ice operators' launching new vessels for Antarctic and Arctic waters.
Oceanwide Expeditions' M/V Hondius
In the first announcement, Oceanwide Expeditions revealed the latest addition to their fleet – M/V Hondius – a little while ago, with the first expeditions due to take place in 2019. A full schedule for the ship has not yet been announced, but we'll be sure to let you know about the voyages as more information comes to light in coming months.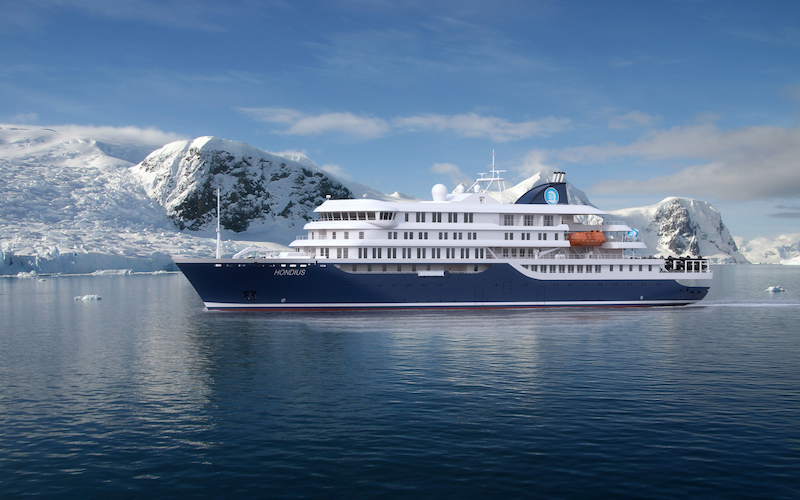 Hondius is the first new vessel to be built to class 'LR PC6', meeting the latest and highest demands of Lloyd's Register for Polar Class 6 expedition ships, the highest Polar Class notation for ice-strengthened vessels.
At just over 107 metres in length, Hondius will cater to 178 expeditioners and 76 staff. Although we're often loathe to recommend ships of over 100 passengers in Antarctica (to maximise excursion time), the team at Oceanwide have done a lot of planning to ensure sea legs are short and to focus on fast and effective access to shore and near shore activities for all nature and wildlife-minded explorers. A powerful fleet of zodiacs will guarantee quality outings and swift landing operation for all passengers at the same time.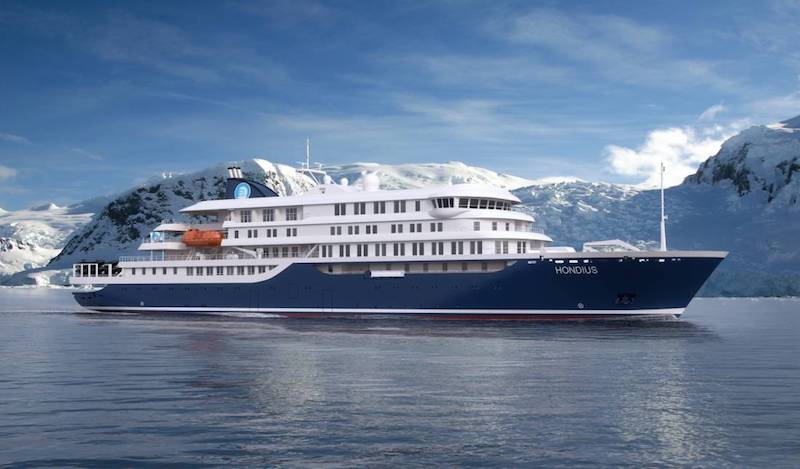 Hondius will offer deluxe accommodations for in total 178 travellers in one spacious Hondius suite (cabin size 33 m2), six grand suites with balcony (cabin size: 29 m2), eight junior suites with French balcony (cabin size: 22 m2), eight superior cabins, (cabin size: 22 m2), 11 twin deluxe cabins, (cabin size: 22 m2), 14 twin window cabins (cabin sizes: 14 to 16 m2), 30 twin porthole cabins, 2 triple porthole cabins and 4 quadruple porthole cabins (the porthole cabin sizes vary from 13 till 16 m2).
A large component of the Oceanwide Expeditions experience is education, and the ship's designers have taken this into account when planning the new vessel. One deck has been entirely reserved for (multi-language) lectures and presentations in one large observation lounge, with an additional lecture room available for secondary lectures.
The vessel offers a deluxe standard and at the same time Oceanwide's distinctive cozy and informal atmosphere.
One Ocean Expeditions' RCGS Resolute
In breaking news, our Canadian partner One Ocean Expeditions has just today announced that they will be expanding their polar fleet in November 2018, with RCGS Resolute joining their existing ships Akademik Ioffe and Akademik Sergey Vavilov.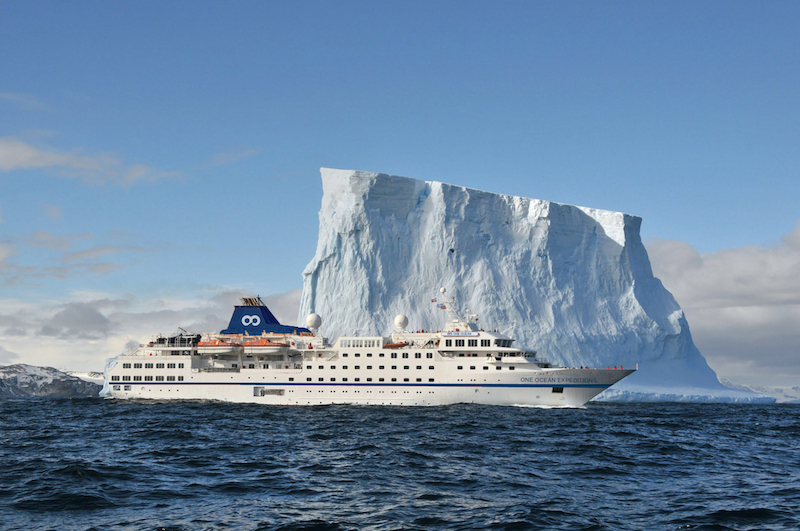 Built in 1993 in Finland and most recently operating as Hanseatic, the 146 passenger Resolute is ice-strengthened to Lloyds 1A level, features modern stylings, excellent facilities and high stability in open water. One Ocean Expeditions is currently preparing itineraries for the new vessel, which we expect to be available from November 2017. Keep an eye out on our website for more details as they come to hand.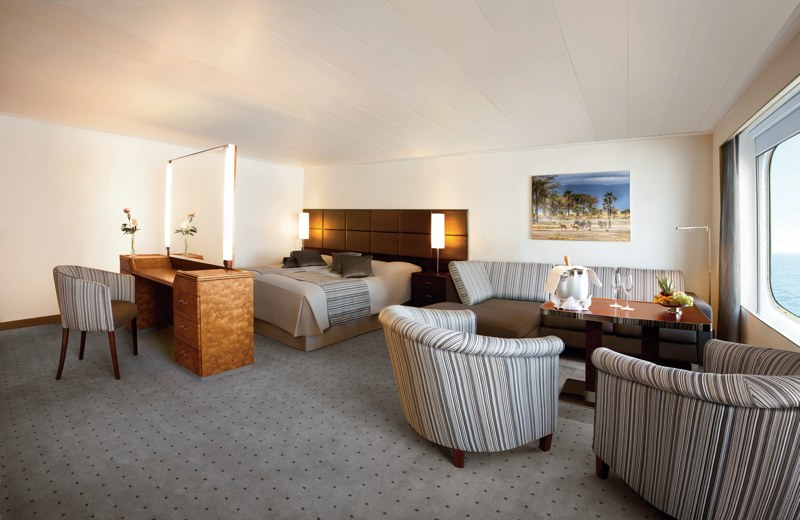 Resolute's features include two separate bar and lounge areas with breathtaking180 degree views. A well-stocked reading room provides the ideal place to relax or catch up on some reading. Sumptuous meals are prepared for you by an expert culinary team and are enjoyed in either of two dining rooms, one of which features a popular bistro menu offering quick and easy meals for those prioritising time out on deck. Both dining rooms have ample and open seating paired with modern furnishings and large picture windows with 180 degree views. Other facilities include a theatre style presentation room, gift-shop, gymnasium, wellness centre, hot water spa, sauna and steam room and salt water pool.
If you're thinking about an Antarctic cruise, or considering a cruise to the Arctic region to see the Northern Lights, these new ships may offer just exactly what you're looking for. Contact our polar cruise specialists today for more information about our great range of Antarctic and Arctic ships, and our portfolio of the world's best expedition cruises.