If you've ever sat around the dinner table with a group of friends dreaming about cruising Western Australia's Kimberley Coast together, a private charter of the 12-passenger Kimberley Pearl can make those dreams become a reality at an affordable price.
Imagine the thrill of having a beautifully-appointed small ship exclusively yours for an intimate group of your nearest and dearest; a ship that feels more akin to a private yacht that normally only the rich and famous can enjoy. Then imagine being able to tailor the itinerary to your own likes and even help devise the menu. Imagine sitting on deck with a glass of champagne with just a few of your closest friends for company as the sun sets over the Kimberley coast.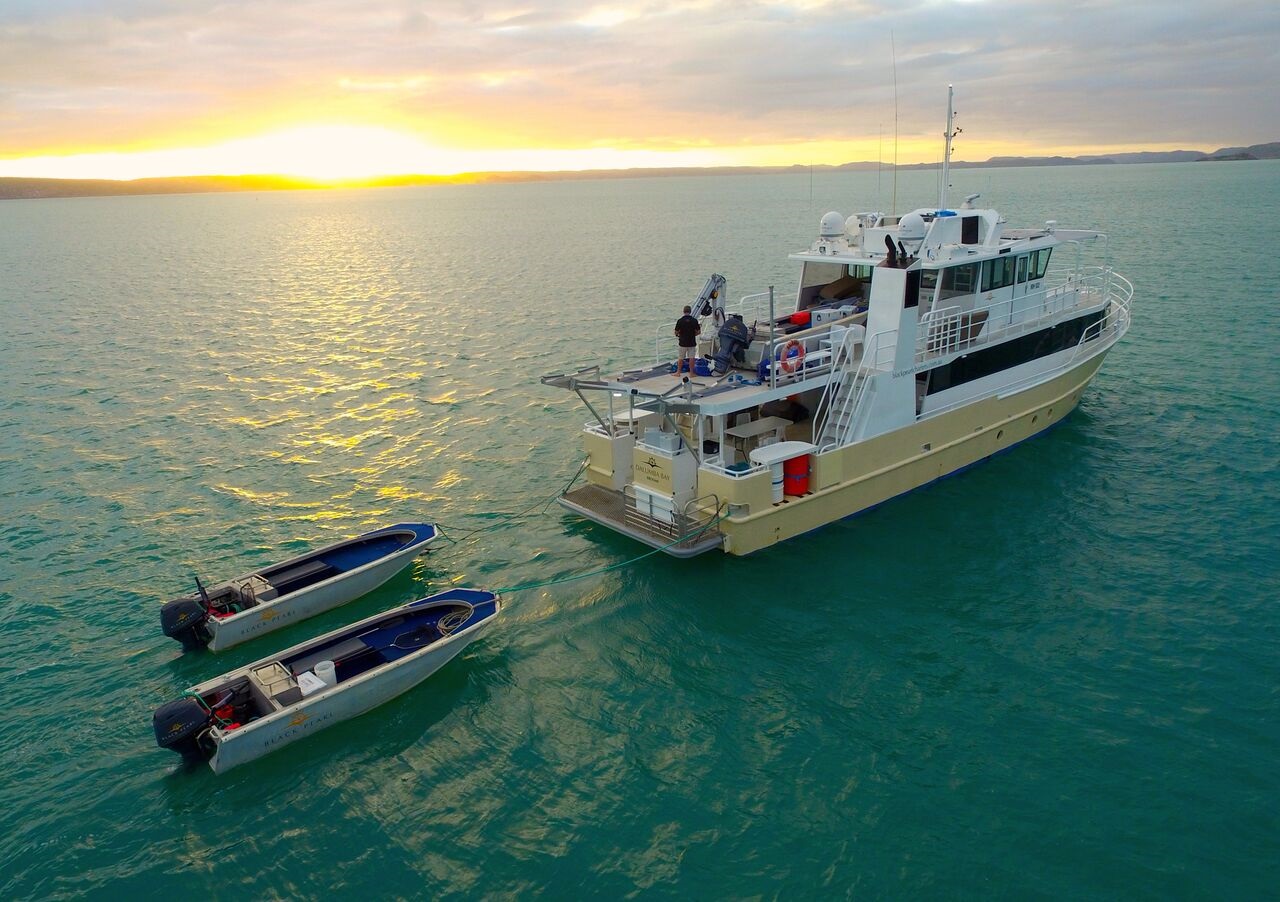 The 12 passenger Kimberley Pearl allows all this and more. Originally built as a pearling lugger for famed Broome Paspaley Pearls in 1979, this stylish vessel has recently undergone a thorough refurbishment and has six air-conditioned cabins, all with private en suite, accommodating up to just 12 guests in style on Kimberley cruises.
When you step aboard the Kimberley Pearl you will soon feel right at home. Like most homes, the kitchen is very much at the heart, and you can gather around as the ship's professional chef prepares the day's fresh catch of barramundi, mangrove jack, queenie or GT right in front of you. In addition to the airy saloon / kitchen, there's plenty of deck space to enjoy, complete with a BBQ at the stern and a cosy spot infront of the bridge at the bow.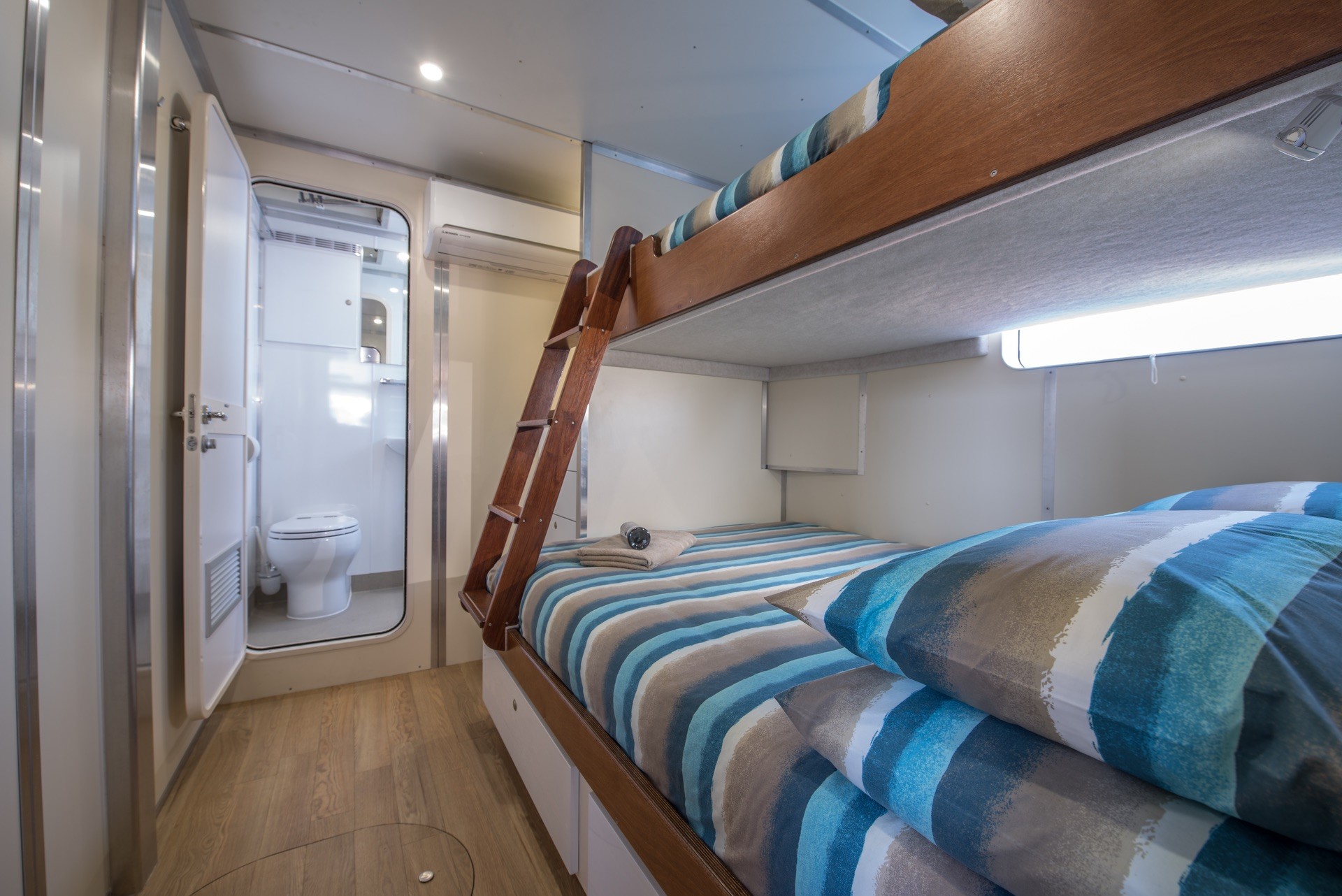 Excursions are a breeze aboard the Kimberley Pearl, she comes equipped with a fleet of three aluminium tenders, allowing several different activities to be offered at the same time depending on your mood. Perhaps you want to go out fishing while others go in search of Aboriginal art along the cliffs? Or maybe some friends want to head ashore to a hidden swimming hole? It's all possible when you cruise aboard the Kimberley Pearl.

Throughout your charter you will also enjoy outstanding service from an affable and expert Australian crew of five. The Captain will be on hand to help plan your daily adventure program, while the chef will be busy keeping your mouth watering with the culinary delights he creates day after day. Three further crew operate as general hands, driving the tenders, explaining what you're seeing and also keeping the ship in great shape!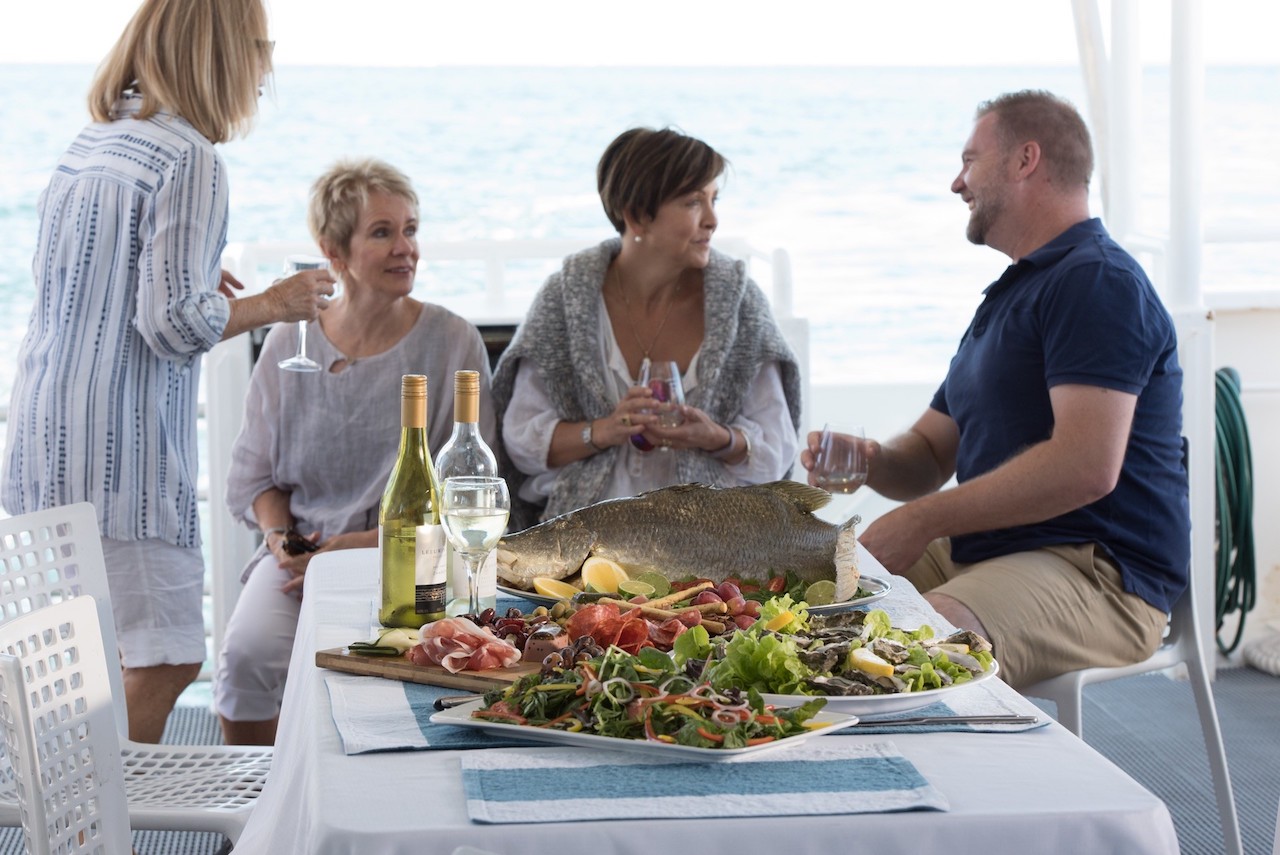 One of many advantages of a private charter is the ability to tailor the itinerary to suit your own group. In fact, our client Gwen from Sydney, along with her husband and a group of their best friends, returned from a 13-night charter earlier this year and couldn't believe the flexibility they had each day. Gwen mentioned that if the group was particularly enjoying a swimming hole the Captain was happy to let them linger for as long as possible – no fixed schedule to keep as you might find on a trip where there's many passengers with differing interests.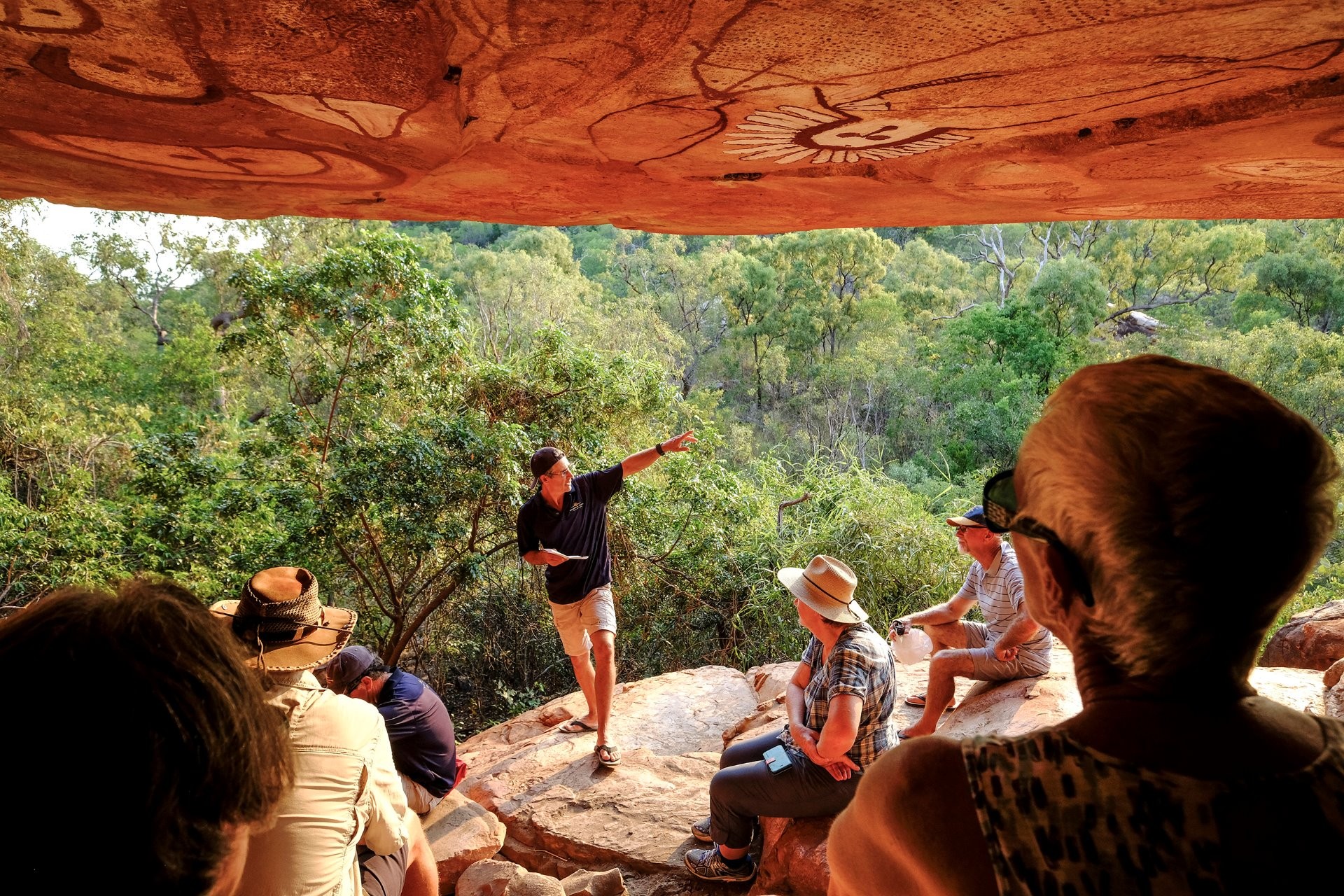 Best of all though, private charters aboard the Kimberley Pearl are incredibly cost effective. Up to 12 guests can share a charter of the ship for $69,300 for seven nights – that's just $5,775 per person – exceptional value for such an intimate experience.

You can also choose between two different itineraries. The 13-day Ultimate Pearl cruises from Broome to Wyndham (Kununurra) or vice versa, and is the ideal option for those who want the complete Kimberley experience. Alternatively, for those who are short on time the 7-night Southern Pearls program cruises north from Broome to discover highlights including Horizontal Falls and Montgomery Reef.
Keep in mind that it is always best to plan your charter as far in advance as possible to ensure the pick of the best cruise dates. Why not get your friends together and start planning a private Kimberley Pearl adventure cruise in 2021?
2021 Kimberley Pearl dates available for charter:
13 Night Ultimate Pearl - See the Itinerary
03 April 2021 – Broome to Kununurra
18 April 2021 – Kununurra to Broome
03 May 2021 – Broome to Kununurra
18 May 2021 – Kununurra to Broome
02 June 2021 – Broome to Kununurra
17 June 2021 – Kununurra to Broome
18 July 2021 – Kununurra to Broome
7 Night Southern Kimberley Pearls - See the Itinerary
14 September 2021 – Broome to Broome
22 September 2021 – Broome to Broome
30 September 2021 – Broome to Broome
08 October 2021 – Broome to Broome
For more information or to book your private charter of the Kimberley Pearl call the expert team at Expedition Cruise Specialists today on 1800 90 20 80 or visit www.expeditioncruisespecialists.com