After exploring the world on cruise ships ranging from 1,000 to 4,000 passengers, it came as quite a surprise to me to experience an expedition cruise.
The very term 'expedition cruise' conjures up myriad visions of abseilling down cliffs, crawling through caves or wading through a swamp.
I had this vision of waking up at 5am to trek through the jungle in search of a rare bird. After eight hours of slashing our way through the jungle covered in leeches we finally come across the last pink bird of paradise in existence.
Now, it is true that you can find really strenuous and challenging expedition style holidays if you want.
However, I soon found out that expedition cruising was nothing like that. The expedition cruises I have been on have been the most relaxing and enjoyable of my 30 year career in travel writing.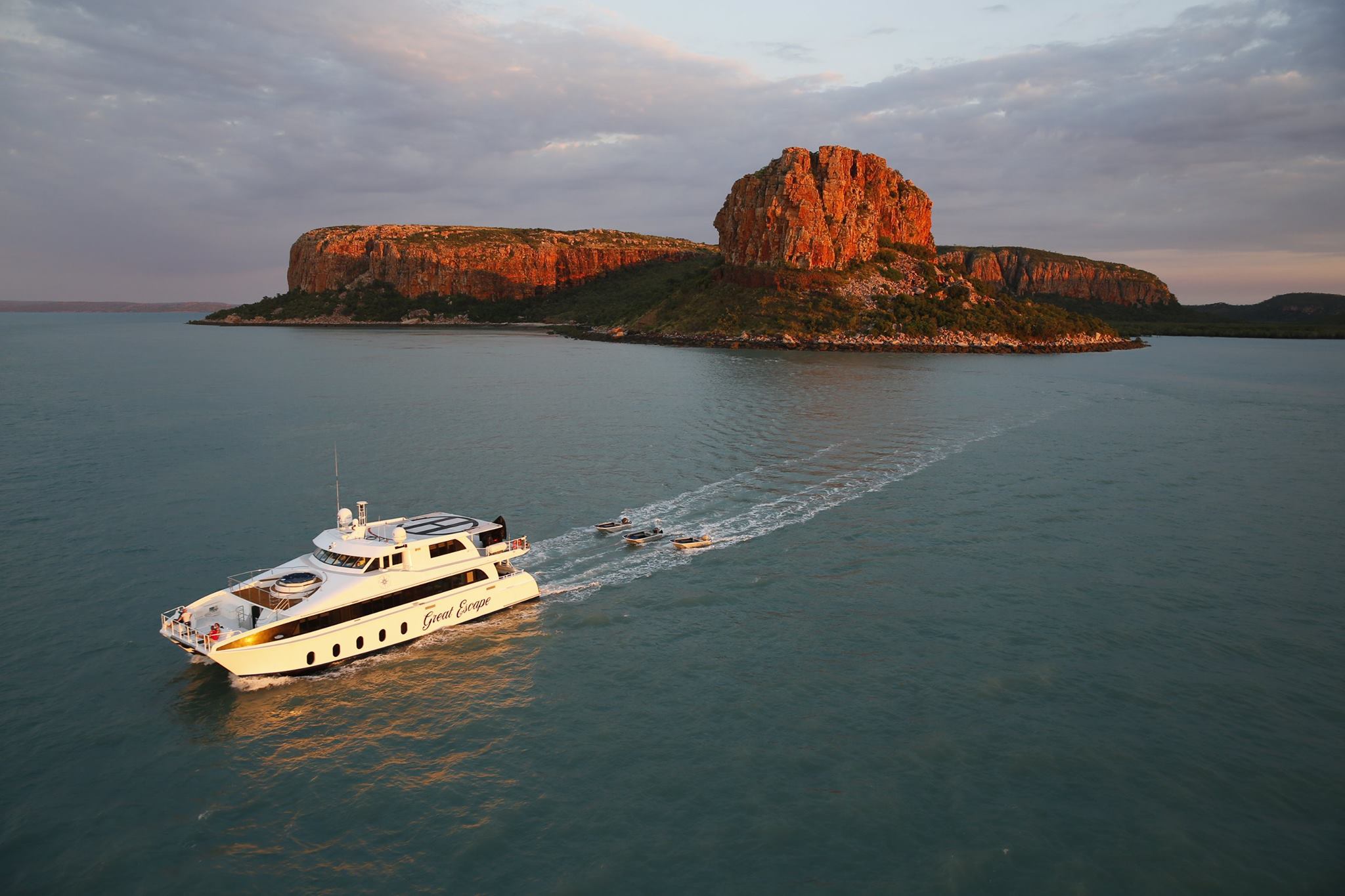 Let me take you through a day aboard a typical expedition cruise.
Today, I have something really special for you. We are visiting one of Australia's most iconic adventure destinations, the spectacular Horizontal Falls on Australia's wild Kimberley Coast.
The first thing I notice on rising at 7am is the ship entering the stunning Talbot Bay with high cliffs all around. I race upstairs to get some pics and video as the sun rises over the sea. Many of my fellow expeditioners are already up, enjoying a morning walk. Breakfast is from 7.30am and is a buffet with a wide selection of goodies available.
At 9am we walk on board our 50 seater expedition tender and settle in. I get there early so I can grab my favourite spot for filming and photography.
We go on an exploration cruise through the many striking bays and passages of this massive inlet. The water is very still on this particular day and the huge white clouds above are mirrored in the water giving an amazing photo opportunity.
The tender's engines comes to stop and we glide through the still blue water, allowing us to fully appreciate nature at its most majestic display.
We then head for the world famous Horizontal Falls which most people on board rate as the highlight of our entire cruise. The ship's two zodiacs are waiting to us through the Falls.
In groups of five clad in life jackets, plus the skipper, we climb from the explorer boat on to the zodiac. It is surprisingly easy to get aboard and perch on the outer inflatable side of the zodiac.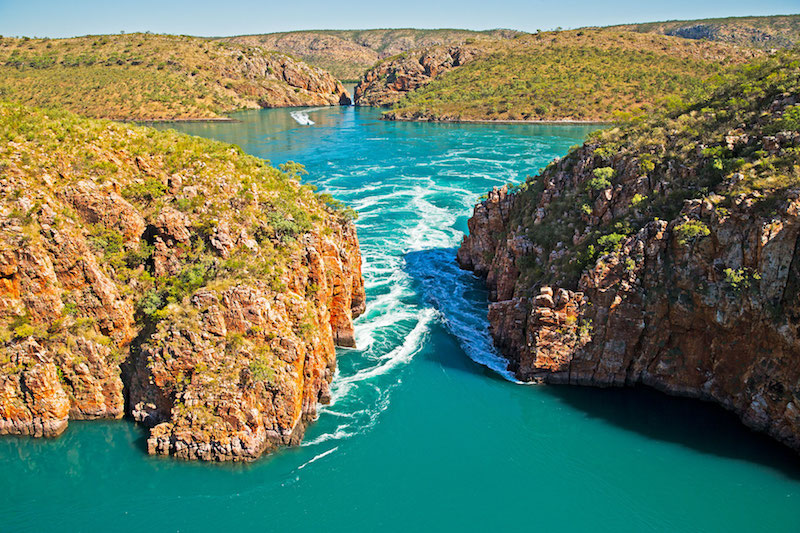 The 12m tide is really racing through the small gap in the cliffs and looks a bit like the rapids in the Grand Canyon.
We race along bumping and jumping across the angry, swirling monster.
Am I scared? Not really, the exhilaration of that ride soon eliminates any second thoughts you may have about it all.
David Attenborough described the Horizontal Falls "one of the greatest natural wonders in the world".
As we surge through the gap at its wildest point, it's easy to agree with the world's most famous nature adventurer.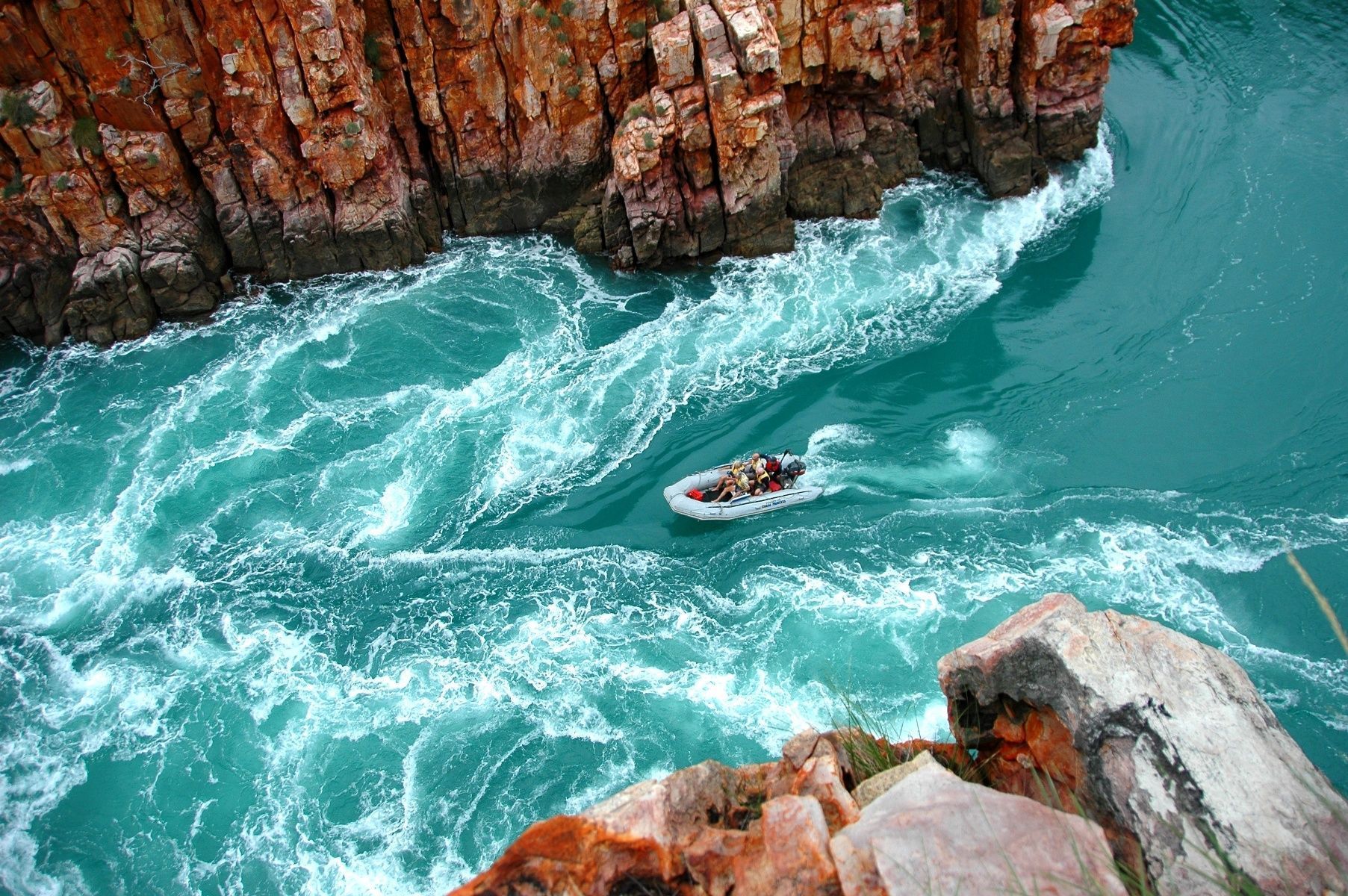 We enter a wide bay and then discover another horizontal waterfall further on which has the same intensity as the first one.
Our skipper cleverly steers us through the narrow, roaring, raging gap with sheer cliffs on either side. Returning through the two falls is just as exhilarating.
Back on board the explorer tender everyone is excited about the unique adventure they have just experienced. They cheer each returning group on the zodiac and the zodiac people yell back in excitement. Surgeons from New York and CEOs from Germany are jumping and down like 10-year-olds.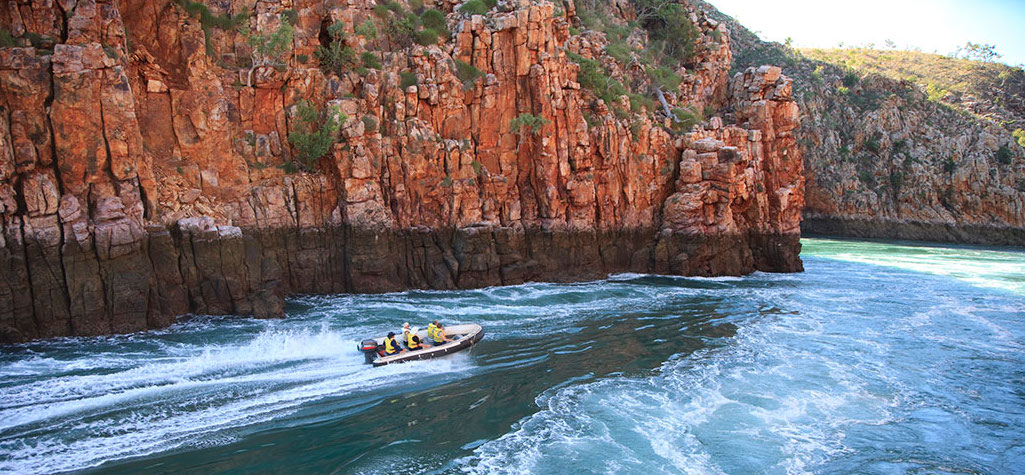 We return to the ship just after midday and a mouth watering buffet awaits us. How the chefs on board can turn out such sumptuous food in such a small galley is beyond me. I guess it all comes down to forward planning and a natural talent for what their guests like to eat. Most of my fellow travellers have experienced fine dining around the world, so our ship's chefs have to impress with their food.
At 2pm lunch is finished and we climb aboard the explorer boat for another leisurely cruise, this time to Silica Beach on Hidden Island. We revel in its white sands and crystal clear waters. There's even the chance for a cooling dip.
This shorter excursion is a relaxing wind down after the dramatic events of the morning.
We return to the ship just after 4pm which gives everyone time to sort through their photos or have a quick nap.
At 5.30pm I nip up to the top bar for cleansing ale with my fellow adventurers. At 6pm our Expedition Leader gives us a quick rundown of the day's events including some photos of all the action. He then lets us know the plans for the next day.
Dinner is served at 6.30pm and I enjoy a nice Australian Semillon Sauvignon Blanc with a stunning seafood à la carte dinner that would compliment even the most fastidious restaurant ashore. All the talk is about the Horizontal Falls and the amazing day we have just experienced.
An older lady from Hornsby named Madeline on my table confesses she was ready to pull out of the zodiac ride after seeing the falls.
"I never thought I'd do it even though I had dreamt about it for years. But I did it!" she said, her voice wavering. "And now I can tell my grandkids. I really achieved the dream of a lifetime" she said excitedly.
The table went quite for a short time and then I lead a toast: "To Madeline!" Eight wine glasses clinked as one.
"To dreams," Madeline replied raising her glass.
After dinner I head to the back of the ship where many people are enjoying the warm night air of the Kimberley. It was just one day in our lives, but what a day it was.
Like many days on an expedition cruise, it is a day we will remember forever. For Madeline, the dream of a lifetime had come true that very day.
Dallas Sherringham is a media professional, world traveller and regular contributor to our blog.
You can experience Horizontal Falls for yourself on all of our Kimberley expeditions. For this story, Dallas travelled aboard Coral Discoverer, and you can have similar experiences aboard True North, Great Escape and Kimberley Quest II.