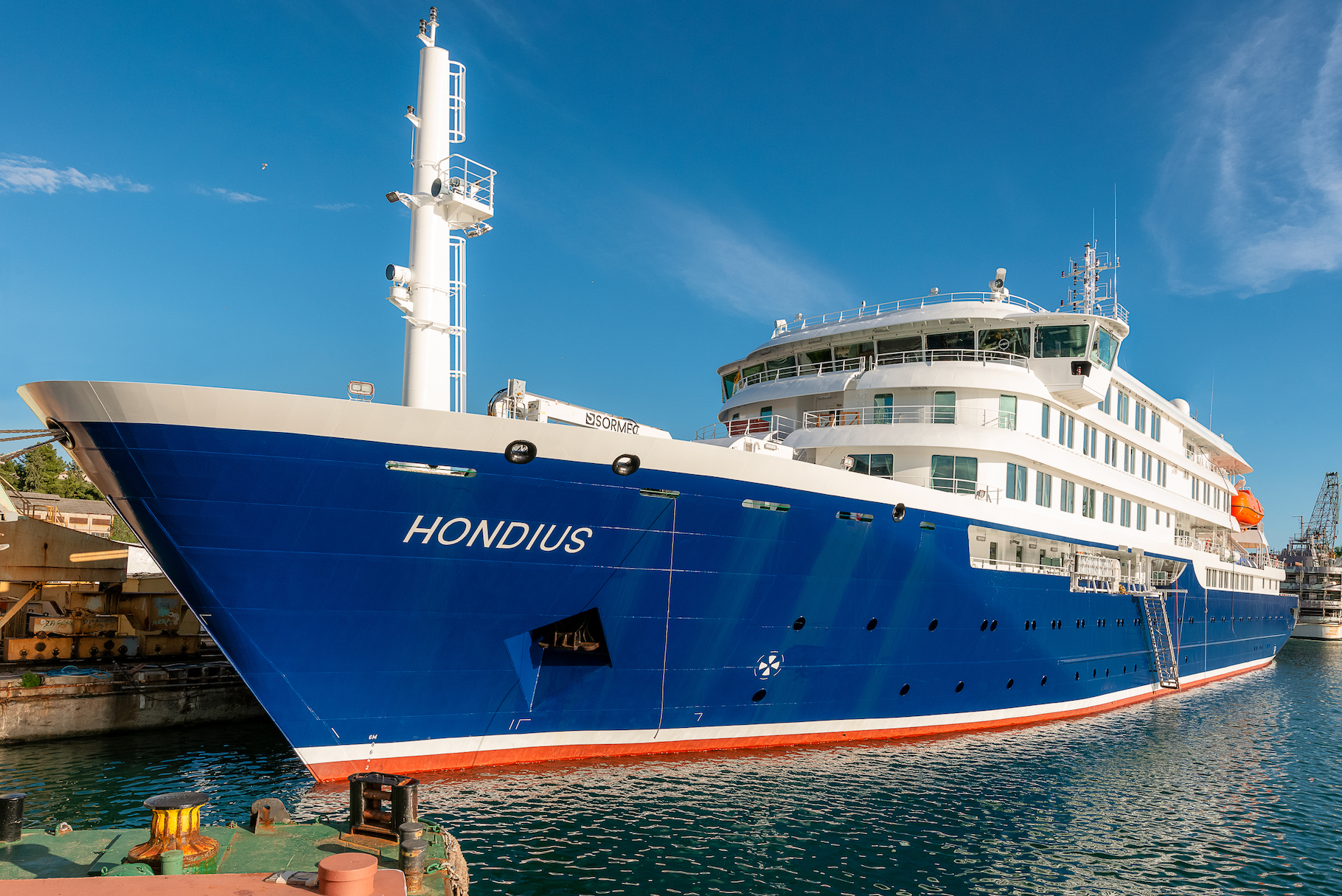 It's been a very exciting week for polar cruising enthusiasts, with the launch of the the m/v Hondius. Two years in the making, Hondius recently sailed from the Brodosplit shipyard in Split, Croatia to her Dutch homeport of Vlissingen, home of her owner Oceanwide Expeditions. After a gala welcome ceremony on 03 June 2019 it was time for the inaugural guests to board before setting off on her maiden voyage to the Arctic.
Hondius's launch is also a milestone in polar exploration, as she becomes the world's first Polar Class 6 expedition cruise vessel to begin operations. As such, she represents one of the most structurally-fortified, technologically-advanced, and navigationally nimble expedition ships taking ot the ice, capable of reacting to weather and wildlife opportunities with the utmost speed and flexibility.
To keep itineraries flexible and response time rapid, Hondius is equipped with advanced stabilisers and two main engines capable of powering the vessel at up to 15 knots. But Hondius sacrifices no warmth to achieve her keen polar edge: You will have 72 crew and staff members (including expedition and hotel staff) at your service while cruising aboard this state-of-the-art 'home away from home', ensuring that what little time you do spend on the ship (when you're not off exploring) you will spend comfortably entertained.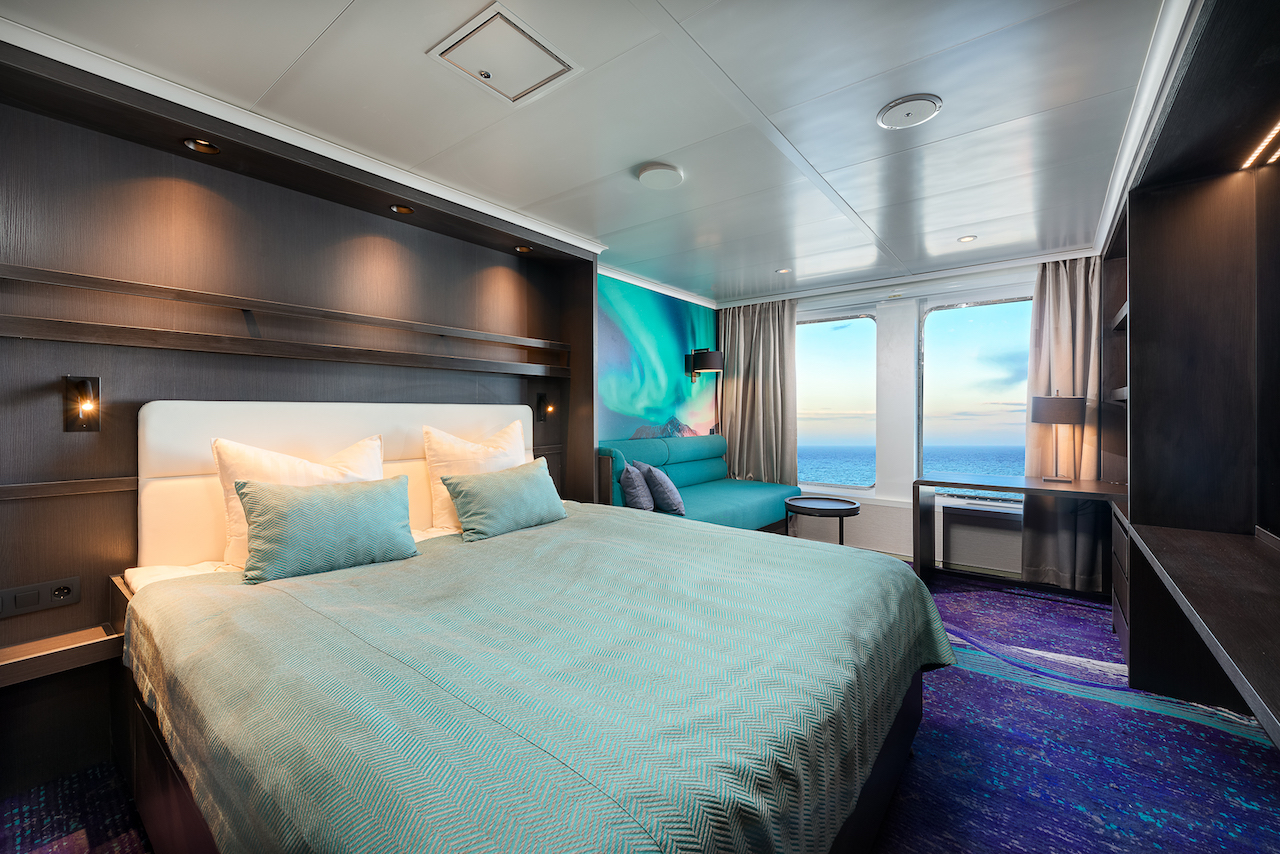 Hondius also promises high-quality accommodation for up to 174 expeditioners on each voyage. You may choose from several different grades of accommodation including the exlcusive Hondius Suite (35 square metres), six Grand Suites with balconies (27 square metres), eight Junior Suites (19 to 20 square metres), eight Superior Cabins (20 to 21 square metres), 11 Twin Deluxe Cabins, (19 to 21 square metres), 14 Twin Window Cabins (12 to 14 square metres) as well as 28 Twin Porthole cabins, two Triple Porthole Cabins, and four Quadruple Porthole Cabins that vary in size from 12 to 18 square metres. Though elegantly designed in stylish mid-century modern décor, this vessel holds true to Oceanwide's distinctive cozy and informal atmosphere.
See more detail on Hondius's range of Suites and Cabins
Here's a few photos of the celebrations during her gala launch in the Netherlands.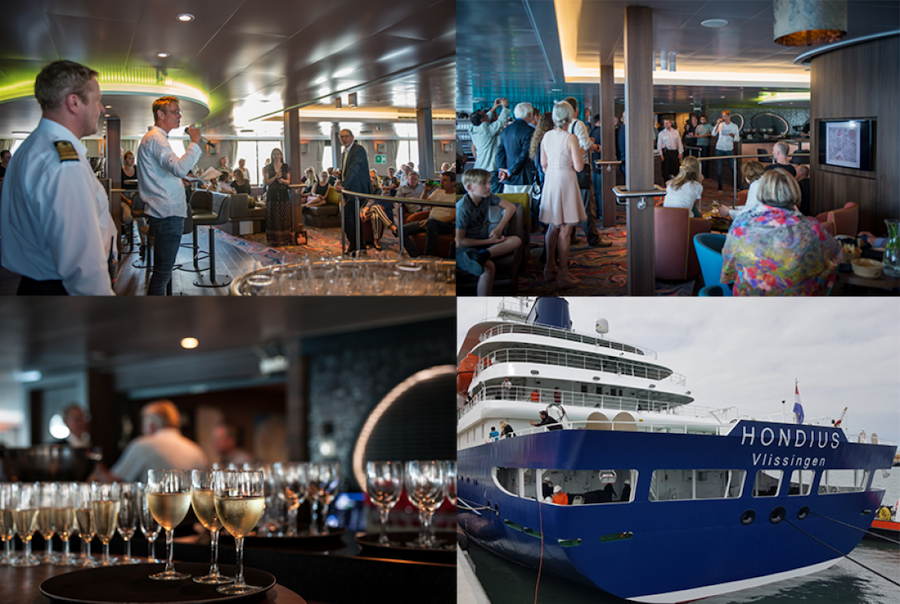 After completing her first expedition cruise, Hondius will continue the northern summer with some of the most classic routes in the Arctic polar regions. She will even sail under the northern lights in the east Greenland fjord of Scoresby Sund, Earth's largest fjord system, later in September, with some cabins still available at 20% off normal prices!
Although Hondius's first cruises will be in the Arctic, she is just as much an Antarctic expedition vessel. Beginning in October 2019, Hondius will embark on a full schedule of cruises throughout Antarctica, visiting such emblematic areas as the Antarctic Peninsula, the South Shetland Islands, South Georgia, and the Falklands.
In these exotic Southern Hemisphere landing sites, passengers have the opportunity to spot a wide variety of whales, seals, multiple penguin species, and many other seabirds – and all while engaging in exciting activities, some of which are only available in Antarctica.
There's still space to join the new Hondius during her inaugural season of sailings. For bookings and more information please contact us on 1800 90 20 80 (or +61 7 4041 2101 if calling from outside of Australia) to speak to one of our polar cruising experts.
LAST CABINS ON HONDIUS'S 2021 ANTARCTICA SOLAR ECLIPSE CRUISE
One of the fastest-selling cruises on Hondius's forward schedule is the 2021 Solar Eclipse voyage departing Ushuaia on 26 November 2021. This once-in-a-lifetime experience is almost sold out, with the last few cabins now available. To find out more about this incredible journey click here.