This special guest blog (and photography) was kindly provided by Paul Hogger – Eco Abrolhos Guide and Photographer
2024 Eco Abrolhos Kimberley Cruise Schedule
New for 2024, you can choose to cruise from either Darwin to Broome or vice versa, or Wyndham to Broome or vice versa. Cruises departing from Darwin are ideal to match up to the Ghan, or touring in Kakadu whereas Wyndham cruises allow for touring in the East Kimberley and the Bungle Bungle.
Broome to Wyndham - 09 to 22 May 2024
Wyndham to Broome - 24 May to 06 June 2024
Broome to Darwin - 08 to 21 June 2024
Darwin to Broome - 23 June to 06 July 2024
Broome to Wyndham - 09 to 22 July 2024
Wyndham to Broome - 24 July to 06 August 2024
Broome to Darwin - 08 to 21 August 2024
Darwin to Broome - 23 August to 05 September 2024
2024 Kimberley Cruise Prices: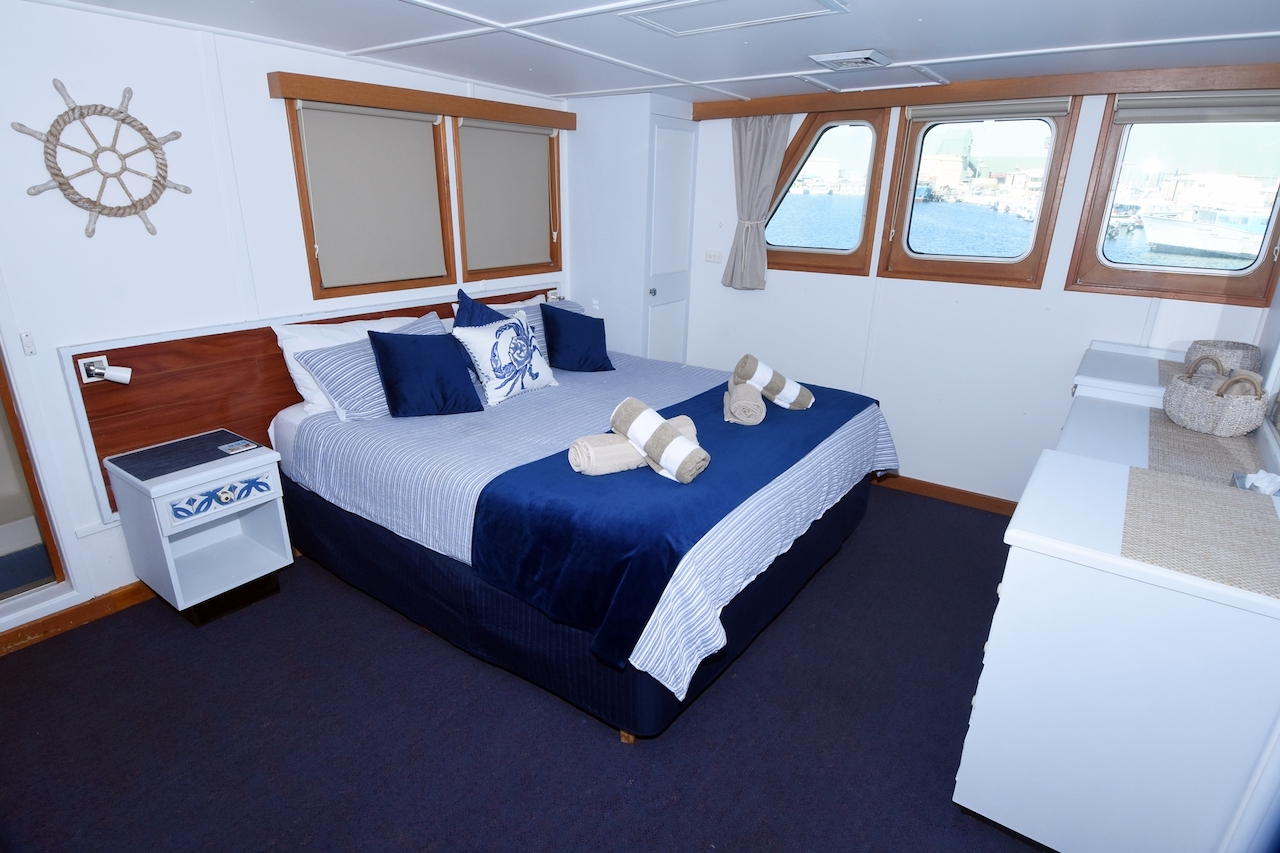 SPECIAL OFFER: Book between 06 September 2023 and 31 December 2023 to take advantage of these special fares:
Lower Deck Cabin - $11,115 per person, twin share
King Bunk Cabin - $12,165 per person, twin share
Queen / Double Stateroom - $14,265 per person, twin share
King Bed Deluxe Stateroom - $15,840 per person, twin share
Single travellers may secure a Lower Deck cabin for $13,740.
Please note that these special fares are valid for new bookings only and the discounts are not combinable with any other offer.
*****
Recently, Australian television's SBS broadcast a 'Slow TV' series with The Kimberley featuring as one of the showcased journeys with a cruise from Broome to Darwin spanning some 15 hours of television time. While the voyage was portrayed as somewhat relaxing this is not reflective of the pace onboard the Eco Abrolhos.
You don't have to be young and super fit, or a marathon runner, but aboard Eco Abrolhos the crew offer a vast range of activities that reward guests with a fantastic cross section of all The Kimberley has to offer.

Why The Eco Abrolhos Itinerary?
At Eco Abrolhos we don't offer seven or nine day 'Snapshots' or even five day 'Tasters', all eight of our annual Kimberley cruises are the same duration – 13 nights – and this is for a very important reason. We pride ourselves on taking each guest on a complete Kimberley journey – starting at Broome and finishing at Wyndham or vice versa. By visiting the key sites regularly the Eco crew know the hotspots, where's safe to swim, where the wildlife lives, the best fishing holes and where to find the largest variety of birdlife.

Our 13 night journeys are not just thrown together on the run. These expeditions are planned over 18 months in advance to correspond exactly with the best tides and moon phases for each voyage. The 13 night duration also enables Eco Abrolhos to set off on a spring tide (the largest tides) and finish 14 days later also on a spring tide. This planning is critical to provide the ship the greatest water depth (and assistance from the currents) to get into places like the Berkeley and King George rivers and give our guests the maximum "Wow factor" and water movement at iconic locations such as Horizontal Falls and Montgomery Reef, all of which are at the start or end of each expedition.
The neap tides (smaller tides) during the middle of the trip make for better fishing and crabbing opportunities in the central section and longer stops at the scenic areas like the swimming waterholes, indigenous rock art sites and onshore hikes.
With a maximum of 11-metre (37ft) tides, timing is a critical factor everywhere we go in The Kimberley. Each and every one of our eight 13 night Kimberley Expeditions is planned like this; we've been doing it for years – and it works!!

Eco Abrolhos's expedition tenders
The four custom-built expedition tenders allow us to intimately explore the Kimberley. We don't just drive up the rivers and watch the world go by. Our tenders allow us to put you in the action. With 140Hp engines, forward facing central seating and high sides, these are the perfect viewing and photo platforms. The folding front stairs makes boarding comfortable and easy and the full walk-around sides make fishing a breeze.
Having multiple tenders allows Eco Abrolhos to cater to the various needs of our guests. Perhaps some of our guests wish to climb the waterfall while others would prefer to explore myriad creeks spotting wildlife. That's no problem on the Eco Abrolhos.

Fishing aboard the Eco Abrolhos
Fishing is always a favourite activity. Our four tenders allow us to split the guests into 4 groups. Usually each tender heads to a different hotspot with their guide. It makes for some friendly banter both over the radio while the fishing is underway and afterwards back onboard the Eco Abrolhos. With all the guides being equal fisherman, the result is never the same.

Indigenous Rock Art
Our captain is very passionate about the art and has over 35 years' experience in The Kimberley guiding guests to remote art sites. We visit a mixture of Gwion Gwion (Bradshaw) and Wandjina rock art sites. The hikes to get to the art sites range from under a minute to 20-minute climbs up a rocky cliff side. Some of the views from the art sites are just as worthy of the climb. Typically, we visit six to eight art sites during each 13-night cruise.

Hikes and exploring ashore
Hikes, treks, bushwalks; call them what you will but they are popular during our cruises and the rewards are well worth the effort. In addition to hikes to the art sites there are multiple walks to fresh water swimming holes, hikes up side tributaries with small waterfalls and rock races, walks into areas to see stunning bird and wildlife and even a walk over a salt flat to an intact DC-3 plane wreck. One of the most active hikes is at the King George River. We only conduct this activity during the first half of the season when there is enough water flow above the falls. The hike starts with a steep incline up the side of a rocky slope before coming out on the rim of the 100-metre high gorge. The walk takes you past colourful wildflowers and along the rim before coming to the top of the iconic 88-metre high twin waterfalls. From there it's a little further on to a delightful swimming hole on top of the world.

And that's not all.....
We could keep going but by now we hope you get the idea. From pre-dawn starts to capture magnificent sunrises, to full action-packed days and backed up with a large range of post-sunset activities both on and off the Eco Abrolhos, your 13 Night "ACTIVE" Kimberley Adventure Cruise will leave you completely fulfilled with your voyage along the Kimberley Coast.

See more about the Eco Abrolhos