It used to be that a cruising expedition in the Amazon Rainforest required not just a sense of adventure, but also the ability to 'rough it' on ships that had seen much better days. But now - with new ships featuring all the mod cons seemingly being launched every year - you can still have all the adventure of an Amazon expedition, whilst travelling on some of the most stylish small ships in the world.
So, we got to thinking about which of these ships offers the most spectacular suites that will leave you picking your jaw up from the floor whilst simultaneously adding an Amazon expedition to your travel bucket list! We've done all the hard work for you and narrowed down the choices to rank what we think are the three most opulent suites on the Amazon today.
Here's our countdown – be warned though, the WOW factor is high!
Number 3
The Ship: Aria Amazon
The Suite: Design Suite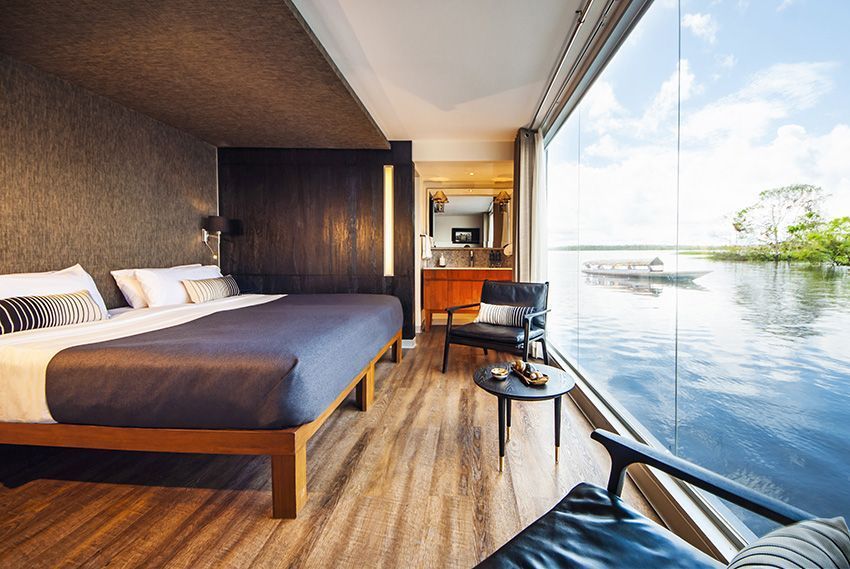 Designed by the innovative Peruvian architect Jordi Puig, all 16 Design Suites on the Aria Amazon measure a spacious 23 square metres (250 square feet), meaning there's plenty of room to sit back and relax. Floor to ceiling windows offer uninterrupted viewing of the passing river scenery, polished timber flooring adds to the ambience and of course each suite has individually controlled air-con. The en suite bathrooms feature a rain shower and luxurious, organic bath amenities incorporating the latest eco-sensitive technology.
Soft lighting, natural fibres and neutral hues create a relaxing and luxuriously comfortable enclave where one's only challenge may be to decide whether to gaze upon the Amazon from atop the California king size bed, dressed with 100% Peruvian cotton high thread count sheets or while lounging on the cozy window-side day bed, binoculars in hand.
Number 2
The Ship: Delfin III
The Suite: Amazonia Suite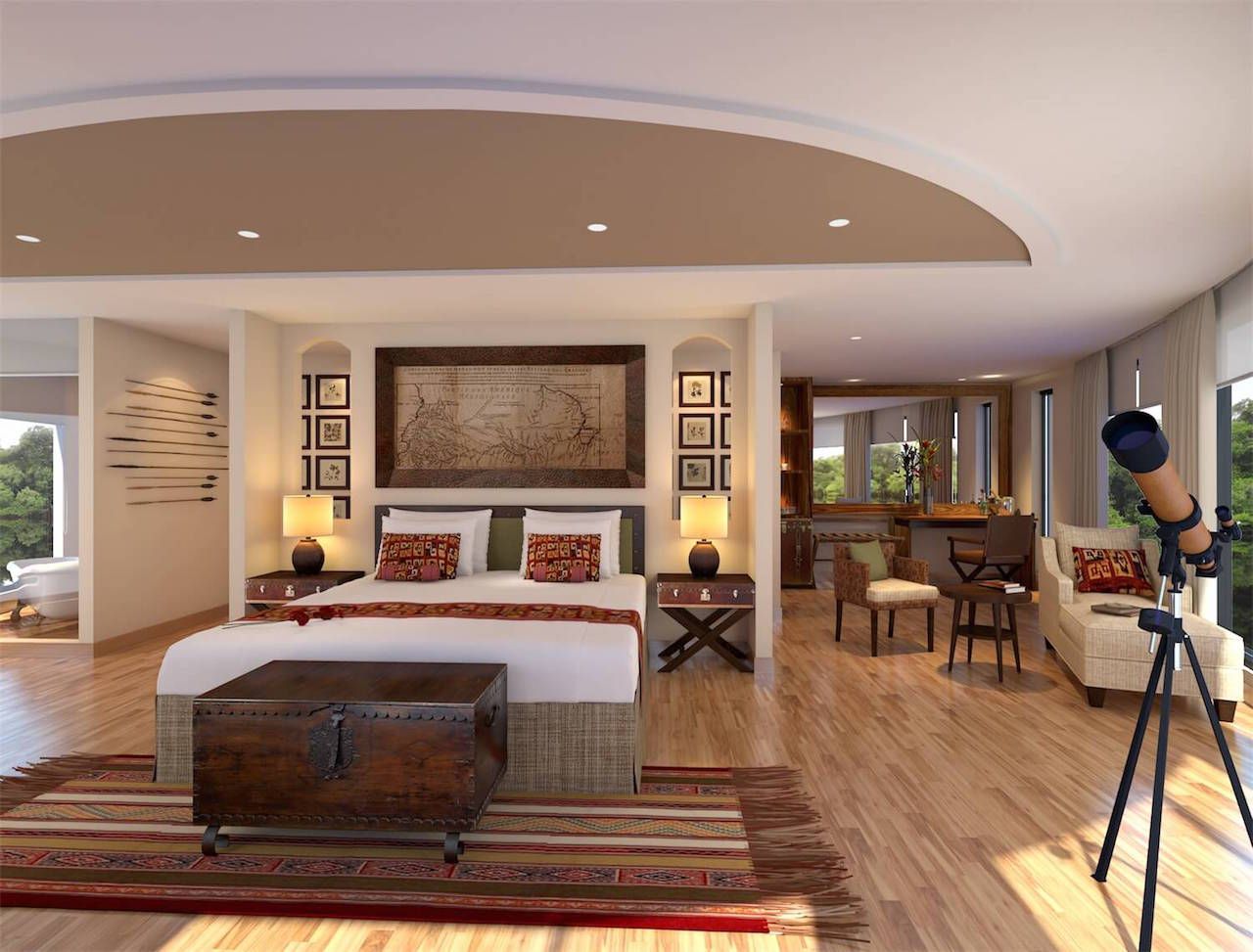 The 43-guest Delfin III (formerly Amazon Discovery) was launched in October 2015 - making it the newest ship operating in Peru's Pacaya Samiria National Reserve. The single Amazonia Suite is the ship's most sought-after room, and at 55 square metres (597 square feet) it's larger than some of the apartments I've lived in! Located on the second deck at the front of the ship, those lucky enough to call it home during their expedition will enjoy breathtaking views of the river and rainforest through forward-facing 180 degree floor to ceiling windows.
Awaken to a breathtaking vista from the comfy bed, complete with luxurious Peruvian linens and European duvet. A cosy sofa is positioned to allow for reading, whilst keeping a close eye on the passing scenery. A standalone bathtub really turns up the feeling of luxury. But that's not all; guests will also receive a complimentary 60-minute spa treatment, a fully-stocked mini bar and laundry services during the expedition.
Number 1
The Ship: Delfin I
The Suite: Deluxe Suite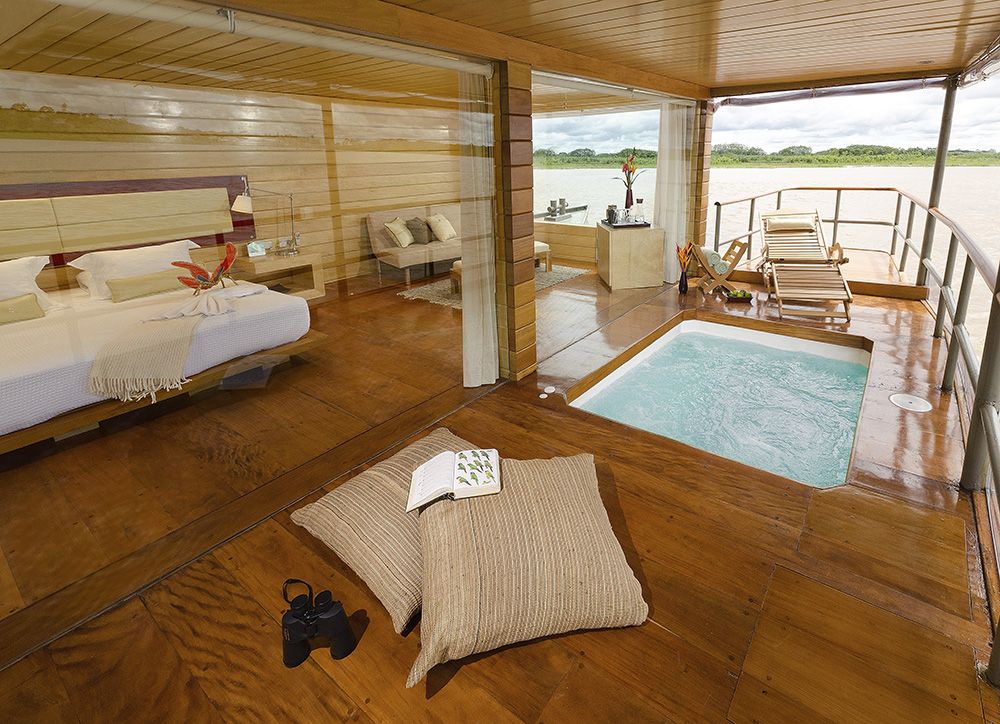 For several years now it's been our favourite Amazon suite, and even with the arrival of some new contenders we still think Delfin I's Deluxe Suite has more WOW factor than any of its nearest rivals.
With interior space measuring 34 square metres (360 square feet), there is plenty of space to enjoy, even before you consider the additional 32 square metres on the private terrace. The cool water plunge pool is a real jaw-dropper and makes Delfin I the first and only river vessel with this luxurious feature.
Located on the main deck, the two spacious Deluxe Suites feature a king size bed that are wrapped by 180° panoramic windows stretching from floor to ceiling, a mini bar, in-suite seating area with a sofa bed, fine Peruvian cotton linens, environmentally friendly amenities, silent A/C units, hot water, hair dryer, safe deposit box and internal communications system.