Secret no more. Kimberley Cruising more popular than ever in 2020
MEDIA RELEASE - 02 DECEMBER 2019
SECRET NO MORE. KIMBERLEY CRUISING MORE POPULAR THAN EVER IN 2020
First discovered by European mariners 400 years ago, Western Australia's Kimberley coast is being rediscovered by adventurous travellers again in the 21st century.
Careening Bay is about as remote as any place on Earth and it was here that the legend of the Mermaid boab was born.
Europeans had been exploring and getting shipwrecked on the remote and inhospitable Western Australian coast for two hundred years, so when Phillip Parker King hauled out his little ship, HMS Mermaid, onto the beach of Coronation Island in the Bonaparte Archipelago, he was no stranger to this ancient, barren land.
King described the Kimberley as the 'red coast', whose rocks appeared thrown together by some convulsion of nature. He named any feature that hadn't already been named by Frenchman Nicholas Baudin 20 years earlier with a British moniker such as Prince Regent, Waterloo and Trafalgar.
While repairs were being carried out, his carpenter carved the name of the ship, 'HMC Mermaid 1820' into a small boab tree. Miraculously, that tree still lives, bearing the crew's handiwork to this day, the letters stretched to more than 10 metres. The modest little cutter struggled back to Sydney with King's impressive survey work which then formed the basis of maps for more than 100 years.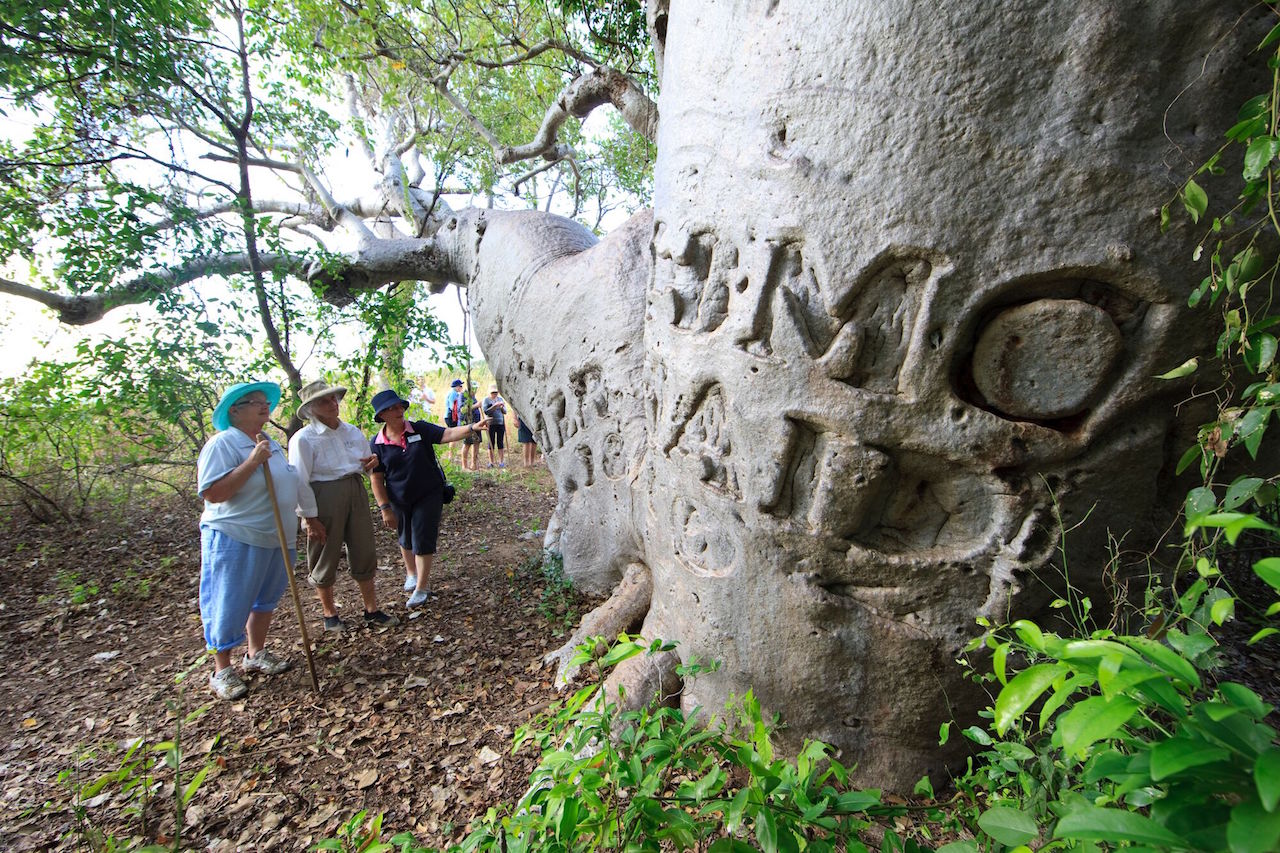 The Kimberley went largely ignored by seafarers for many years thereafter, but today it is being revisited by numerous modern cruise vessels conducting their own explorations.
Travelling in Baudin's footsteps, Australian-flagged Coral Expeditions 'Sacred Kimberley' itinerary is one of the most comprehensive offered by any major cruise operator. In 2020, the luxury expedition cruise line will conduct twenty-nine back-to-back 11-day voyages between April and September with a different excursion program every day.
The enigmatic Hunter River, for example, is one of the most picturesque landscapes anywhere in the Kimberley, lined with wild mangrove forests alive with numerous native bird species.
"The highpoint of any voyage," says Expedition Cruise Specialists' GM, Andrew Castles, "is an exploration of the King George River with its majestic twin falls, the highest in Western Australia.
"Many itineraries will also visit Collier Bay, site of the mysterious Montgomery Reef, where the entire marine ecosystem appears to rise from the sea with the falling tide like a re-appearing Atlantis."
Boutique adventure cruise operator, True North Adventure Cruises, recently celebrated 30 years cruising among the prehistoric vistas of the Kimberley. Their local knowledge is unrivalled in the destination and their active excursions are made all the more extraordinary thanks to an onboard jet helicopter, a feature shared with their colleagues at The Great Escape Charter Company and Kimberley Quest.
Increasing global recognition has drawn other international lines such as French-flagged Ponant who will deploy their new ship Le Laperouse in the Kimberley in 2020, along with Silversea who will bring their stalwart vessel, the 144-guest Silver Explorer, for a three-month season.
Small ships are the ideal way to discover the Kimberley and no one has a greater selection of premium vessels than the independent, representative, Expedition Cruise Specialists.
"It's an exciting time the world over for expedition cruising," says GM Andrew Castles, "and so it is in the Kimberley now that the choice is wider and comfort levels higher than ever before. The all-Australian small ship cruise line, Coral Expeditions are a perfect example with their brand-new flagship Coral Adventurer to be joined by a sister-ship Coral Geographer in 2021."
Travellers can experience the two new Coral Expedition ships in the Kimberley, with 2021 earlybird prices starting at $6,885 per person for the 11-day voyages between Darwin and Broome when they book before 01 April 2020.
For more information and bookings visit www.expeditioncruisespecialists.com or freecall 1800 90 20 80.
- ENDS -
For more information or interviews, please contact:
Andrew Castles
General Manager
Ph 07 4041 2101
Freecall: 1800 90 20 80
Email: [email protected]
BACK TO MEDIA / PRESS RELEASES