Aranui 5 - Frequently Asked Questions (FAQ)
Find out the answers to some of the most Frequently Asked Questions (FAQ) we receive from guests cruising aboard Aranui 5 in the Marquesas Islands.
How do shore excursions work on Aranui 5?
Depending on the island, Aranui 5 will either dock 'alongside' at the main pier or you will tender into a small pier aboard the smaller excursion boats. On some occasions there may be 'wet landings, requiring the use of shoes you can get wet.
Once ashore, included excursions are available and these generally last anywhere from a couple of hours through to a full day, depending on how long the Aranui 5 will be in the port.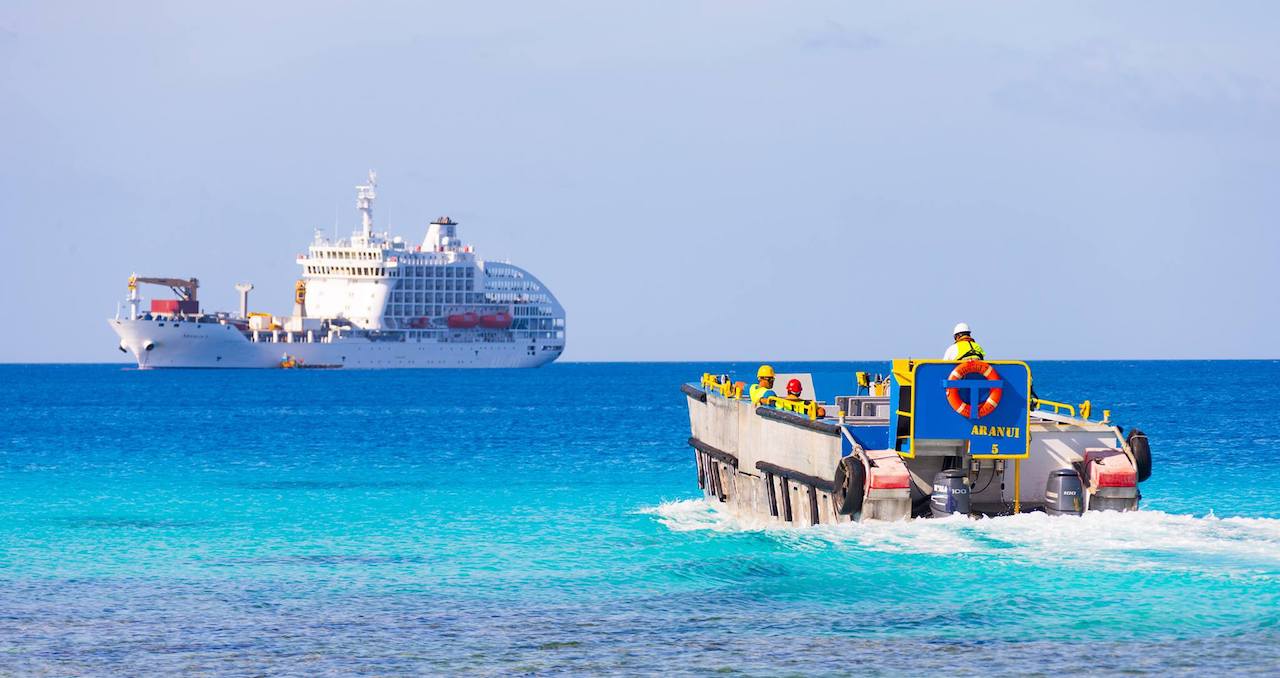 Is Smoking permitted aboard Aranui 5?
Smoking of cigarettes aboard Aranui 5 is possible but is restrictedto designated smoking areas on the port side of decks 6, 8 & 9. Smoking is not permitted inside the ship, or on stateroom balconies.
Do I need to pay staff tips (Gratuities) aboard Aranui 5?
Tipping is not customary in French Polynesia so there is no obligation to provide tips to the ship's crew. However, should you wish to recognise particularly excellent service, towards the end of the cruise a comment card (feedback form) box along with a communal tips box will be available to guests to contribute to. Again, tips are completely optional and there is absolutely co compulsion to participate.
Is there a laundry room / service aboard Aranui 5?
On two days during your cruise a complimentary laundering service is offered to guests (excluding socks and underwear), check with the front desk for schedules. Alternatively, guests are welcome to use the communal laundry room during their cruise, where five washing machines and five dryers are available for guest use. The laundry also houses an iron and ironing board for guest use. Tokens to use the washing machines, and to purchase detergent, are available from reception, and incur a small charge.
What money do I need on shore excursions?
On shore excursions you will need Polynesian Francs (CFP) to purchase souvenirs and refreshments from local vendors on most islands. You may be able to obtain this currency from the ATM in Papeete before your cruise, or you may prefer to organise this before leaving home. We always suggest you carry a range of notes in varying denominations as larger notes may not be readily accepted by vendors.
Is there internet access on Aranui 5?
Yes, Aranui 5 is fitted with internet access capability, allowing you to access Wi-Fi and connect your devices. Note that there is a cost to access the internet, depending on how much access you require. Prices start at approximately AUD $50. Please keep in mind that onboard Wi-Fi is generally slower than what you will be used to at home, and may not be available in all parts of the ship. It is generally available in communal areas however, including the bars and dining room.
While you are on the islands where there is a signal, you may also be able to use your mobile phone if you have international roaming engaged. This generally needs to be organised before you leave home with your telecommunications provider.
What format are the power plugs aboard Aranui 5?
Aranui 5 features European format, 220-volt power plugs, including in your cabin. Also, there is one North American-style 110-volt plug located in the bathroom, which would be suitable for electric shavers and the like. If you are bringing devices with alternate plugs, we would strongly suggest that you ensure you bring converters from home. In an emergency, the ship's shop stocks a small selection of converters available for purchase.
When is the best time of year / season to cruise aboard Aranui 5?
One of the great things about cruising the Marquesas Islands is the consistent, year-round weather patterns. This means that any time of year is a great time to cruise aboard Aranui 5! Temperatures are very consistent throughout the year, and September to December are the driest months, with about 30% less rain that other months.
Is snorkelling and beach gear provided aboard Aranui 5?
While many keen snorkellers will bring their own gear from home, particularly if they have prescription goggles, Aranui 5 does have about 50 shared sets of snorkelling gear that can be loaned out to travellers during their cruise. If wishing to loan a set, we do suggest you put your name down at the front desk at the very start of the cruise.
Guests will notice that Aranui 5 has white towels in cabins, and these must remain in your cabin. There's also blue towels available and these are for use at the beach or when using the ship's pool. Towels are readily available and laundered.
What time is dinner aboard Aranui 5? Do I need to book a table?
When you cruise aboard Aranui 5 you won't be assigned a table. At each meal you can choose to sit where you like, and with whom. This is a great way to meet as many possible on your cruise as possible! Travellers wishing to sit together should arrive early to select where they would like to be located as seating can fill fast.
Meals times can change from time to time depending on the day's itinerary and port hours. Breakfast is usually served from 6:30 AM to 8:30 AM while onboard lunch and dinner are served with staggered dining times. Guests are able to register their preferred dining times at the front desk on embarkation day, for the 'early' dining option lunch is served at 12:00 noon and dinner is at 7:30 PM. For the 'late' dining option, lunch is scheduled at 12:30 PM and dinner is at 8:00 PM.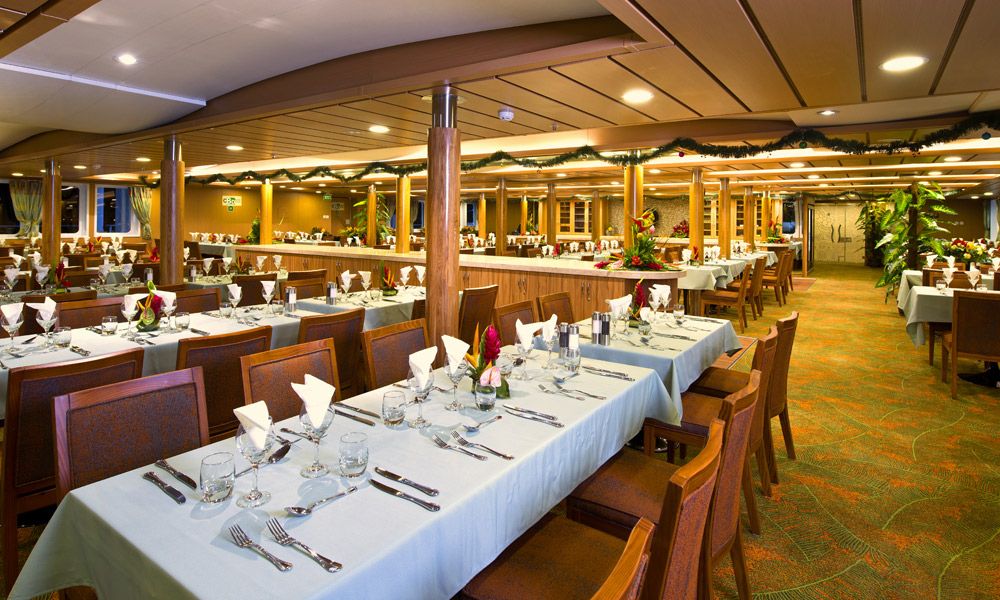 What should I pack when cruising aboard Aranui 5?
Comfort and informality is the name of the game when packing for your Aranui 5 cruise. Typically, light-weight clothes that are easy to wash are recommended, and be sure to pack plenty of shorts, pants, t-shirts, swimming togs and a light rain jacket. We always suggest layering clothes, so a light jacket / cardigan might be ideal for some nights on deck where there might be a chill in the air.
Meal times are not formal, so there's no need to bring a dinner suit, but men might like to bring some nicer pants and button up shirts, while women might pack a blouse or two and some frocks.
Also, be sure to bring all your medications and toiletries. While the ship's shop does sell some basic toiletries, we do suggest you bring your preferred sunscreen and insect repellent from home. Prescription medications should also be brought from home. If you wear glasses or contact lenses we do recommend that you bring a back-up pair of glasses. Also, sunglasses are highly recommended as cruise travel can be glary at times.